What is a Bandage Contact?
A bandage contact is a contact lens for the eye available for management of injuries and abnormalities. A doctor can prescribe a bandage contact as part of the patient's care plan and the device may be left in for several days. In some cases, a doctor needs to remove the lens. This provides an opportunity for a follow-up examination to see if the patient's eye is recovering well, and to check for any signs of complication.
Silicone is a popular material for these kinds of contacts because it breathes well, is highly durable, and can resist colonization by infectious organisms. The contact will help the eye retain moisture and provides a layer of protection and insulation from the surrounding environment. The doctor may also prescribe analgesia and other medications like antibiotics to treat or prevent infections, depending on the nature of the eye problem.
Some reasons a doctor might recommend a bandage contact include poorly healing surgical wounds, corneal erosions, keratitis, corneal dystrophies, and epithelial defects. Wearing this kind of contact is much more comfortable than swathing the eye in bandaging to provide protection, and the healing outcome can be better. Breathable bandages promote more rapid, even healing while preventing water loss so tissues do not dry out. Patients can take oral medications and some kinds of eye drops while wearing a this type of contact, depending on recommendations from an ophthalmologist.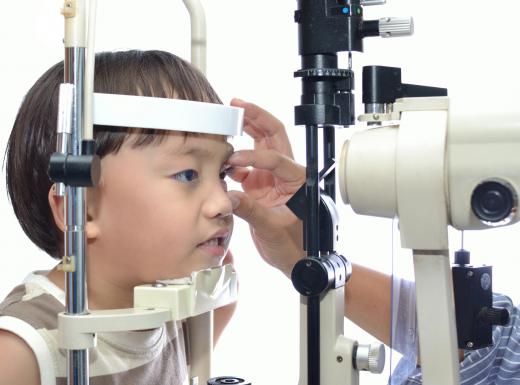 After a doctor takes a bandage contact out, patients may notice blurred, fuzzy vision for several days. This is especially common after surgery, where it may take several weeks for the eye to fully heal. The doctor will perform a vision exam and may request a follow-up to make sure the patient's vision is starting to sharpen. Patients who notice sudden changes in their vision or who start to experience pain and discomfort should contact their doctors immediately. These symptoms may indicate complications.
While wearing this kind of contact, it may be necessary to take some special precautions to protect the eye. People who engage in sports, especially swimming, may want to check to see if they need additional eye protection like goggles or masks. Activities known to strain the eyes, like spending a lot of time in front of a computer, can also a potential issue. Patients may need some time off from work, or accommodations to help them complete tasks at work, until their eyes have a chance to heal.
AS FEATURED ON:
AS FEATURED ON:

By: adrian_ilie825

A doctor may prescribe antibiotics and a bandage contact to prevent or treat eye infections.

By: arztsamui

A bandage contact may be worn during the healing process of a corneal dystrophy.