What is a Bone Density Test?
A bone density test is a test that can diagnose and help determine a person's risk for developing osteoporosis. Osteoporosis, a disease that causes the bones to become fragile and break, effects mostly older women, but not exclusively. A bone density test measures the amounts of certain minerals within any given area of bone. The more densely packed the minerals are within the bone, the less the risk of developing the disease. The bone density test is both a diagnostic and a screening tool.
Doctors recommend that all women age 65 and older and people age 60 and over with risk factors for developing osteoporosis, such as family history, low body weight, history of fractures, and medications that cause bone loss, should have a bone density test. The tests are offered at hospitals and other major medical facilities and are sometimes available at pharmacies or clinics offering health screenings.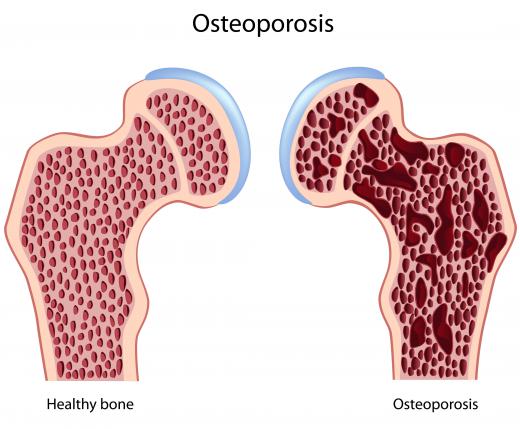 There is essentially no preparation required for a bone density test, with the exception of notifying your doctor if you have recently had any nuclear tests performed as injected dye can interfere with the results of a bone density test. The test is painless and takes only a few minutes.
A bone density test involves the use of a central device and some peripheral devices. The bones that are most likely to break, including the hip, the lower spine, the small bones of the neck, the wrist and forearm, are scanned using imaging technology and the contents measured. The results are then recorded and can help doctors determine if a patient has normal bone density, is at risk for developing osteoporosis, or already has the disease. No recovery or post-care is necessary after a bone density test.
Since older, post-menopausal women are at the most risk for osteoporosis, a bone density test is an excellent screening device and can help doctors and patients work together to prevent the disease. In some cases, insurance or Medicare may not pay for a bone density test so patients should check their coverage before scheduling a test. However, women's health clinics and hospitals sometimes offer bone density tests and other health screenings at reduced rates to promote healthy living. If you think you may be at risk of developing osteoporosis talk to your doctor about the cost and the benefits of a bone density test.
AS FEATURED ON:
AS FEATURED ON:

By: Alila Medical Media

Osteoporosis causes bones to become fragile and easier to break.

By: michaeljung

Those with osteoporosis have weaker, more brittle bones.