A caregiver or carer is someone who provides assistance to another person who cannot live fully independently due to physical, psychological, or mental disability. Caregivers may have duties which are fairly light, such as stopping by someone's house every few days to tidy up, or the duties may be more involved, such as living with someone to provide constant assistance with a variety of tasks. Both volunteer and paid caregivers work all over the world.
Caregivers usually aim to provide as much support as possible, while helping someone retain independence, and in some cases, a caregiver may provide training which is designed to promote independence for the patient. Having a caregiver available can mean that someone does not need to be institutionalized, supporting independence for people who would prefer to remain at home. Using a caregiver can be financially efficient, as institutionalization can be extremely expensive, in addition to emotionally distressing.
In some cases, a caregiver has specialized training in medical care, so that he or she can give shots, change bandages, and perform other medical tasks. Other caregivers provide support which does not require special training, such as errand running, cleaning, assistance with paying bills, and so forth. In the case of paid caregivers, payment may be provided by the patient directly, or by a government agency or insurance company.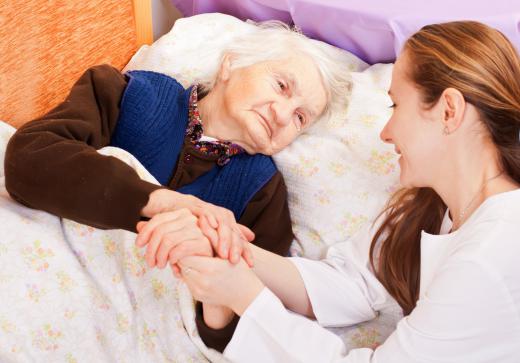 Many caregivers are family members, and they are often unpaid. This has been a source of friction in some nations, as many family caregivers argue that they should receive payments if they are caring for family members who require so much care that the caregiver cannot work at an ordinary job. Family caregivers can also experience considerable stress and strain because they are emotionally attached to the family members they care for, and they may create a rotating system which allows people to share responsibilities and rely upon assistance from friends as well.
Professional caregivers are usually used when a patient needs care which family members cannot provide, or when family members are not capable of providing care because they need to work. A paid caregiver may be a nurse, or someone with more limited medical training, and he or she can live in with a patient, or perform regular visits, depending on the needs of the patient. Families who rely on insurance or government assistance usually cannot get a paid caregiver unless a doctor indicates that it is medically necessary, or if family members can prove that providing care is posing an undue hardship.
AS FEATURED ON:
AS FEATURED ON:

By: Monkey Business

Children often become caregivers for their older parents.

By: Ocskay Bence

Caregivers tend to the elderly in home settings.

By: Robert Kneschke

Caregiving is the perfect job for people who are very patient and love working with the elderly.

By: Tyler Olson

Caregivers may help the elderly with physical therapy routines.

By: brankatekic

Caregivers usually aim to provide as much support as possible.

By: gwimages

Home health care providers are considered caregivers, managing a person's medical needs regularly.

By: Monkey Business

Caregivers often help with household chores.

By: Hunor Kristo

Caregivers might be able to provide basic medical care for the elderly at home.

By: Halfpoint

Caregivers may provide emotional support to the elderly.