What Is a Closed Fracture?
Fractures or broken bones are characterized in numerous ways. Although "broken bone" is the more colloquial term, and less frequently used in the medical community, it essentially means the same thing as fracture. When a person has a fracture, damage to the bone has occurred, and this could include the bone breaking into two or more pieces or cracking so that a visible "break" can be seen with x-rays. Sometimes these breaks are classed as a closed fracture or open fracture.
It's very easy to understand the difference between these two classes. An open fracture not only damages bone, but also breaks the skin. This is a medical emergency due to the potential for infection and the need in most cases for surgery to replace the bone and close any wounds caused by the bone breakage. There are many potential treatments for an open fracture depending on its location, but in most cases, surgery and antibiotics are needed right away to minimize likelihood of infection and to promote bone healing.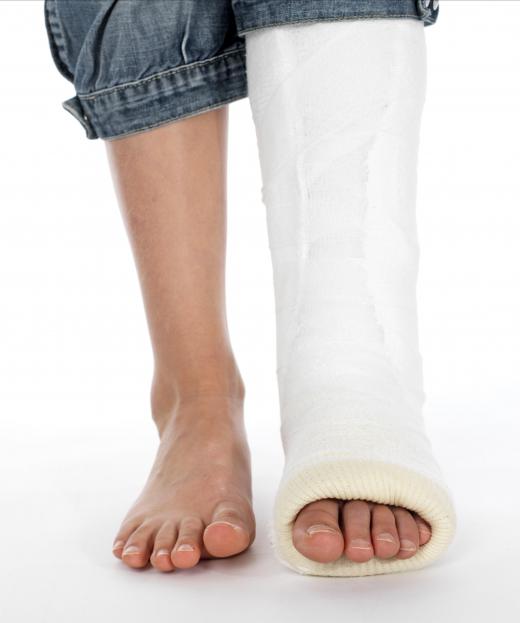 In contrast to this is the closed fracture. This is when bone injury breakage occurs but the break does not result in the skin breaking. This can still be medically urgent depending on area of fracture. A fractured head or pelvis is extremely serious even when skin remains intact.
A minor fracture in an arm, wrist, or perhaps a collarbone needs immediate attention, but wouldn't necessarily require calling emergency services unless other severe injuries were present or no help was available. It is a judgment call, but many people are able to wait for a few moments and with help, they head to the emergency room, urgent care center or doctor's office to obtain diagnosis of what appears to be a very minor closed fracture. If fracture is suspected, most people should not drive themselves to any of these locations, since the chance of going into shock from pain is high.
In some cases, a closed fracture can be just as potentially dangerous as an open one. Moving the area that is damaged could result in serious tissue damage under the skin, and undeniably, these breaks can be extremely painful. People are advised not to ask those with a suspected fracture to move the area that may be injured. Instead, the best practice is to keep the area of injury as still as possible. This might be done by splinting to immobilize a fractured bone, or by providing a sling.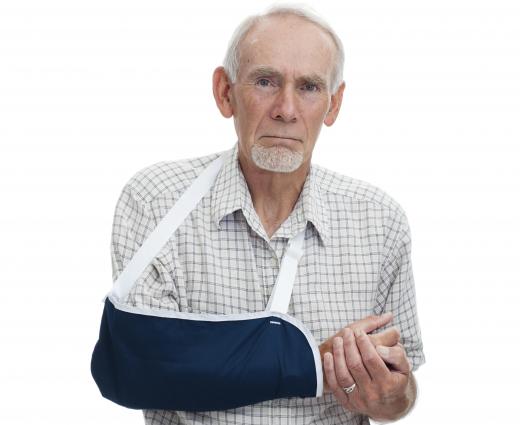 One of the best ways to learn how to treat a fracture while waiting for medical care is to take a first aid class. This can teach people how to handle fractures of different areas of the body. Since broken bones are not that uncommon in a number of settings, such information could prove very useful.
While first aid care is important, a fracture still requires more expert medical attention. Doctors need to identify area of fracture, bones might require resetting, and decision on treatment needs to made. Treatment can be very different depending on what type of fracture is present, the degree of damage, and the area where damage occurred. This tends to be individualized to the injury, and especially because the fracture is closed, the treatment course isn't always predictable until after diagnostic x-rays have been performed.
Frequently Asked Questions
What is a closed fracture?
Often called a simple fracture, it is a fracture in which the bone breaks but does not pierce the skin. This indicates that the shattered bone is still present within the body. Closed fractures are frequent and may be caused by many things, including falls, accidents, or sports-related injuries.
How is a closed fracture diagnosed?
Physical examination, a study of the patient's medical history, and diagnostic testing are all used to diagnose a closed fracture. A medical expert will check the afflicted region for any indications of soreness, edema, or deformity. X-rays, CT scans, or MRI scans may determine the position and severity of the fracture.
What are the symptoms of a closed fracture?
Numerous symptoms can result from closed fractures. The most typical symptoms are intense pain, swelling, bruising, difficulty moving the injured limb, and a popping or cracking sound at the accident scene. It is crucial to remember that depending on the position and severity of the fracture, certain closed fractures may not result in immediate symptoms, and the severity of the symptoms may also vary.
How are closed fractures treated?
The main goals of treating closed fractures are to straighten the shattered bone and provide support so that it can heal properly. Applying casts, splints, or braces to immobilize the fractured bone is one option for treatment, depending on where and how severe the fracture is. In certain circumstances, surgery may be necessary to realign and repair the broken bone using pins, screws, or plates. Physical therapy, follow-up assessments, and pain management are crucial elements of the healing process.
What is the expected recovery time for a closed fracture?
The fracture's location, the damage's extent, the patient's general health, and adherence to the treatment regimen affect how quickly a closed fracture heals. The fracture will often heal entirely over the course of many weeks or months. To encourage optimum recovery and lower the risk of problems, it is crucial to adhere to the medical professional's recommendations about rest, immobilization, rehabilitation activities, and any recommended drugs.
What are the potential complications of a closed fracture?
Untreated closed fractures may sometimes result in problems. Infection, injury to the nerves or blood vessels, compartment syndrome (increased pressure inside the muscles), and the onset of arthritis or delayed or impaired bone repair are a few possible consequences. To reduce the risk of problems, seek medical care as soon as possible, adhere to the suggested treatment plan, and attend follow-up consultations.
Can closed fractures be prevented?
Even though it might not be possible to stop all closed fractures, taking certain safety measures can help lower the risk of harm. These include taking safety precautions when participating in sports, donning the proper safety gear, leading a healthy lifestyle that includes regular exercise to strengthen bones, and taking steps to prevent falls, such as clearing tripping hazards from your home and using handrails on staircases. To reduce the danger of fractures, it's crucial to adhere to workplace safety regulations and employ the proper lifting methods.
AS FEATURED ON:
AS FEATURED ON:

By: kameel

Casts are typically used to treat a closed fracture.

By: Rob Byron

A fractured finger is typically set in a splint to prevent movement.

By: waxart

A sling may be worn to treat a closed fracture.

By: sarapon

A fractured wrist requires immediate medical attention.

By: andreaxt

Closed fractures can be especially serious in the pelvis.

By: Silvia Crisman

When a bone has been fractured, a visible break can usually be seen on an x-ray.