A colon tumor is an abnormal growth of cells found in the colon and can be an indication of colon cancer. If the tumor spreads to the bottom part of the colon, also known as the rectum, it can be an indication of colorectal cancer.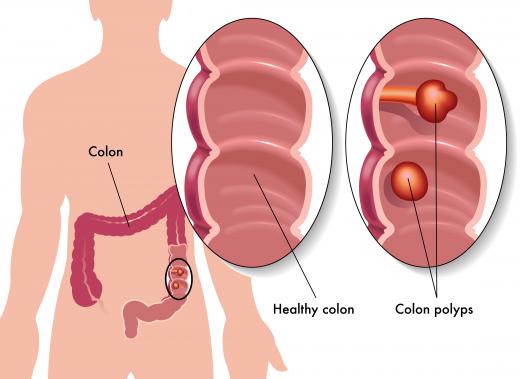 Some colon tumors are non-cancerous and are called benign polyps. Since benign polyps do not cause colon cancer, they are not dangerous, but if they are not identified and removed, they can change into cancerous tumors. Benign polyps are identified and removed through a procedure called a colonoscopy.
A colonoscopy is a procedure in which a doctor inserts a long, plastic, flexible tube into the colon through the rectum. The tube is fitted with a camera and allows the doctor to see inside of the colon. If the doctor sees any abnormal growth or a colon tumor, he can remove it immediately and test it for colon cancer.
Other tests used to screen for colon cancer are a fecal blood test, a sigmoidoscopy, a virtual colonoscopy, a double contrast barium enema and a digital rectal exam. Each test has its own advantages and disadvantages and a medical expert considers certain factors to determine which test to use to screen colon cancer in each person. These factors include the general health of the person, his age, medical history, family history and the potential harm of the test to the person. Other factors considered are the accuracy of the test, the preparation required for the test, the convenience of taking the test and whether or not sedation is required. Some medical experts also consider the cost of the test and whether or not it is covered by insurance.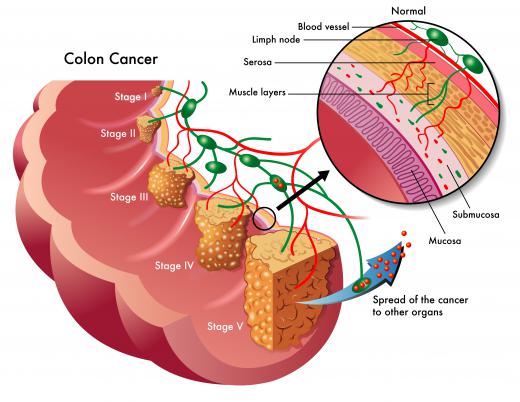 Colon cancer causes the third most cancer deaths in the United States and is the third most common cancer after lung and prostate cancer for men, and lung and breast cancer for women. Inheritance and personal history are some causes of colon cancer. The chance of getting the cancer also increases with age. Other causes of colon cancer are lifestyle choices such as smoking, drinking alcohol, lack of physical activity and a diet rich in red meat and calories. A diet rich in fruits, vegetables and fish and low in fat can help prevent colon cancer.
Symptoms of colon cancer are blood in the stool, change in bowel habit, unexplained weight loss and persistent fatigue. Colon cancer is preventable if a colon tumor is detected early. If a colon tumor is not detected early enough and is confirmed by a biopsy to be cancerous, then the tumor is treated through chemotherapy, radiation therapy or surgery or a combination of any of the three.
Does Size of Colon Tumor Matter?
If you or someone you know has been diagnosed with a colon tumor, you may be wondering, "Does size of colon tumor matter?" The answer is yes, it does matter in some cases. But other factors that help determine the long-term survival expectations for colon cancer include the characteristics and stage of the tumor.
It is possible for larger tumors to still be in stage 1 and smaller tumors to be in more advanced stages. So, while the size of a colon tumor is one factor that helps determine its severity, it is certainly not the only factor.
Colon tumor sizes can range anywhere from 1 cm to 10 cm. Here's what you should know about the size of your tumor as compared to the size of common food items:
1 cm tumor = the size of a pea
2 cm tumor = the size of a peanut
3 cm tumor = the size of a grape
4 cm tumor = the size of a walnut
5 cm tumor = the size of a lime
6 cm tumor = the size of an egg
7 cm tumor = the size of a peach
10 cm tumor = the size of a grapefruit
This guide can give you an idea of how large your tumor would look if you could see it outside of your body.
How Fast Does a Tumor Grow in the Colon?
Do you wonder, "How fast does a tumor grow in the colon?" The answer depends on each individual. Typically, colon cancer starts with the formation of noncancerous polyps in the lower digestive tract. In most cases, polyps never become cancerous. However, some of them can slowly develop into cancerous tumors over a period of approximately 10-15 years.
Once a polyp becomes a cancerous tumor, it can potentially grow quite rapidly. Once a cancerous tumor develops, it can metastasize (spread) within just two years. Some patients are surprised to discover how quickly colon cancer can advance from stage 1 to stage 4. This is why colon tumor removal is usually recommended right away. Some people may experience more slow-growing colon tumors. Each case is unique and should be carefully monitored with regularly scheduled doctor visits.
How Long Does Colon Tumor Removal Surgery Take?
If your colon cancer has not spread yet, colon tumor removal surgery will likely be the first treatment recommended. Your doctor may also recommend chemotherapy after surgery to help combat the development and spread of colon cancer.
If you're wondering, "How long does colon tumor removal surgery take?" the answer depends on the stage of the cancer and where it's located. If the cancer is in stage I and hasn't spread outside of the colon wall, removal of the tumor may be the only treatment necessary. During stages II, III or IV, surgery may involve removing the colon section that contains the tumor along with lymph nodes nearby. Colon tumor removal surgery may take up to four hours. Surgery is likely to take longer with more advanced stages of colon cancer.
What Should I Expect After Surgery?
After a colon tumor removal surgery, you may need to stay in the hospital for up to four days. This timeline may be reduced or extended depending on how well you recover after your procedure.
While you're hospitalized, you'll be encouraged to move as soon as you are able to. Getting out of bed and moving can help facilitate recovery. It's also best to avoid narcotic medications to manage your pain, if possible. During your hospital stay, your surgical care team will help ensure that you get proper nutrition so your body has what it needs to recover as quickly as possible.
When you are able to return home after your hospital stay, your doctor will provide you with limitations and recommendations for slowly returning to normal activities. It's important to avoid lifting anything that weighs 20 pounds or more until you are fully recovered or until your doctor gives approval. It's also essential to avoid swimming pools, hot tubs or taking baths until your incisions are completely healed.
Your bowel function will most likely temporarily change after your surgery. Food may not pass through the colon as fast as you're used to, which could lead to feelings of bloating and fulness. You may also experience a temporary loosening of the stools. This is normal and should resolve within the first three weeks. Keep your doctor informed if you have any problems with nausea, fever, fainting or signs of infection after your surgery.


By: rob3000

Abnormal growths found in the colon are referred to as colon tumors, and may be indicative of colon cancer.

By: Adrin Shamsudin

Persistent fatigue may be a sign of colon cancer.

By: rob3000

Colon cancer is preventable if a colon tumor is detected early.

By: Profotokris

A diet rich in fruits and vegetables can help prevent colon cancer.