What Is a Contraceptive Foam?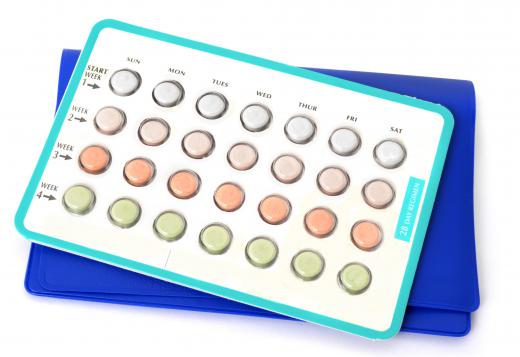 A contraceptive foam is a foam that is inserted into the vagina to prevent pregnancy. The foam is a spermicide, which means that it kills sperm from the woman's sexual partner. The use of contraceptive foam as a method of birth control is not as effective as the use of condoms or the contraceptive pill.
Contraceptive foam contains both a carrier substance and a spermicidal agent, which is usually the chemical nonoxynol-9. The nonoxynol-9 kills the sperm, and the foam itself physically blocks the sperm from moving up the vagina. Contraceptive foam does not protect against sexually transmitted disease.
To be effective, the foam needs to be inserted into the vagina not more than half an hour before intercourse or as otherwise indicated on the product's instructions. Contraceptive foam comes in a bottle with an applicator top. The woman inserts the applicator in the same way as she would a tampon. Then she releases the foam from the container. Sometimes the foam can run back out, so if the product directs it, the woman should not walk around for a specified period of time, which will let the foam settle.
This spermicidal method is only about 80 percent effective, compared with a roughly 95 percent effectiveness rate of condoms. Some women choose to use the foam along with a condom to further reduce the risk of pregnancy and to ensure protection from disease. There are several reasons why a woman would choose contraceptive foam instead of the pill or condoms.
Unlike hormonal methods of contraception, such as the contraceptive pill, implants or intrauterine devices, contraceptive foam does not affect the rest of the body. A woman can use the foam whenever she needs to and does not have to remember to take a pill. She also can stop using the foam whenever she wants to become pregnant. Another advantage to using foam is that the woman does not have to rely on her partner to wear a condom every time they have intercourse.
In some countries, contraceptive foam does not require a prescription and can be obtained directly from a pharmacy. Contraceptive foams are safe to use but are not recommended for women at high risk of human immunodeficiency virus (HIV) infection or who have cervical cancer. These foams are safe for breastfeeding women because they contain no hormones or other biologically active ingredients.
Side effects of the foams include an increased risk of vaginal yeast infections or urinary tract infections. The foam might cause irritation and, rarely, allergic reaction. Contraceptive foams might be messy to use, and the insertion process can affect the spontaneity of intercourse.


By: Kimberly Reinick

Unlike birth control pills, contraceptive foam has no effect on the rest of the body.

By: Petro Feketa

Some women use contraceptive foam along with condoms to reduce the risk of pregnancy.