What is a Coude Catheter?
A coude catheter is a urinary catheter with a tip that is designed for easy insertion. These catheters are used in people with urinary tract obstructions that make it difficult to insert a conventional catheter and are more commonly used in men, although sometimes women develop obstructions that necessitate the use of a catheter of this design. The coude tip can be attached to a wide variety of catheters for different types of purposes and procedures. In addition to being used by doctors and nurses, such catheters can be used at home by patients who need to self-catheterize for various reasons.
The coude catheter has a tip that is slightly curved. This is designed to allow it to navigate past obstructions in the urinary tract, such as a swollen prostate in men. Conventional catheters can get stuck, or may expose a patient to risk of damage such as tearing if the catheter is forced past an obstruction. The design also allows the device to be inserted into patients with narrowed urinary tracts, and comes in a range of sizes so that clinicians can select the most appropriate width.
To insert the catheter, a care provider needs to clean the area, don gloves, and remove the catheter from the sterile packaging. Lubricants can be applied to make the catheter easier to insert. The device is slowly threaded into place and is not forced. An inflation balloon can be attached to keep the catheter in place once it has been guided into the bladder, while an attached bag collects the urine that drains from the catheter.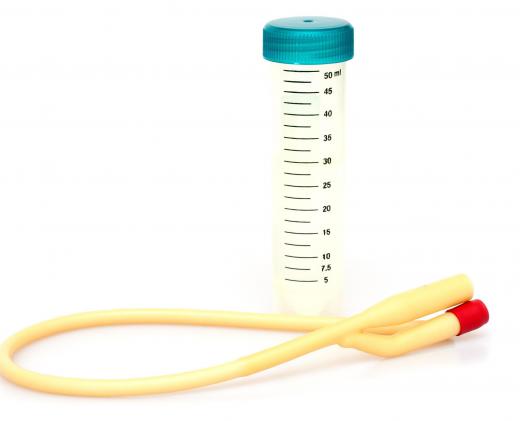 The design was developed in the 1800s by a French physician who named it after himself. Many medical equipment manufacturers produce coude catheters along with supplies and accessories such as urine collection bags. The devices are stocked in hospitals and clinics, and patients who need to use them at home can order them through medical supply catalogs or obtain them directly from their doctors.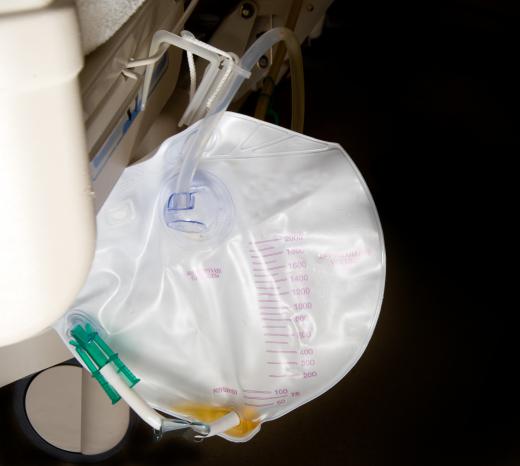 Some coude catheters are designed to be left in place to provide drainage over an extended period of time. People who need surgery on the urogenital area often need catheters because urination is painful or impossible due to swelling in the immediate wake of the surgery. Once the need is over, the coude catheter can be removed to allow the patient to urinate normally. Other patients may need long term catheterization for reasons such as paralysis.
AS FEATURED ON:
AS FEATURED ON:

By: Monkey Business

A coude catheter is more commonly used in men with urinary tract obstructions.

By: jamdesign

A coude catheter.

By: Rob Byron

Urine flows through a catheter to a special collection bag.

By: peterjunaidy

Coude catheters are designed to navigate past obstructions like a swollen prostate.

By: joshya

Treatment for some forms of bladder cancer may involve the use of a catheter.