A curette is a medical instrument which is designed to scrape a surface such as tissue, a tooth, or the inside of a body opening. Curettes are sold by many medical instrument suppliers, with several different sizes available for different types of tasks. Both disposable and reusable versions are readily available for various applications. While designed for use in medicine, curettes can also sometimes be useful hand tools for things like working ceramics.
This instrument is designed a lot like a stylus, with a handle which is designed to be held in the hand, and a scoop-shaped tip. The tip has a sharp blade, and may be angled. Some variations on the basic curette design include versions with loops of wire which are designed to be more gentle, and curettes with softened edges which can be used when a practitioner is worried about cutting and hurting a patient.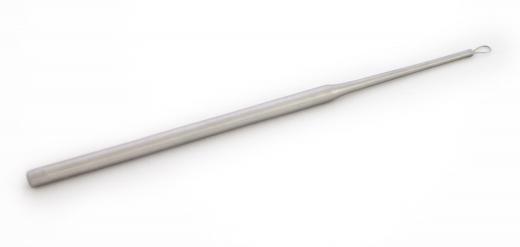 These tools can be used in surgery, biopsy, and autopsy to scrape tissue. One classic use of the curette is in tooth cleanings, where a dentist will use the device to remove tartar, more formally known as dental calculus. Curettes are also sometimes used to clean out the ear so that a doctor can see into the ear, or to provide relief from a wax buildup, in which case a soft curette may be used to avoid injuring the ear. In both cases, the instrument is used with a bright light so that the doctor can clearly see into the opening to confirm that the curette is being applied to the right location.
The curette is also sometimes used in the medical procedure known as dilation and curettage, in which the cervix is dilated and the device is used to scrape out the contents of the uterus. This technique can be used to treat various gynecological conditions, and to terminate a pregnancy. Known as a D & C when it is used to terminate a pregnancy, dilation and curettage does not, in fact, always involve a curette. Other tools may be used instead, despite the name.
In the case of a reusable curette, the instrument is designed to be sterilized, and can endure heat, high pressure, and harsh soaps used to clean medical instruments. Disposable curettes are meant to be discarded between patients, because they cannot be sterilized, and many will also break down if they are overused, thanks to their lightweight single use design.
AS FEATURED ON:
AS FEATURED ON:

By: iPics

A curette is typically used to scrape a surface to take tissue samples or remove debris.

By: Vladimir Melnik

Curettage may be used in some maxillofacial surgeries.

By: reineg

The curette is used in dilation and curettage to scrape out the contents of the uterus.

By: luchschen_shutter

A curette may be used to remove small samples that can then be studied in the laboratory for diagnostic reasons.

By: yotrakbutda

Cheek retractors may be used to allow full access to the mouth during dental curettage.

By: CandyBox Images

Patients are typically instructed to rinse their mouths with mouthwash following a dental curettage.

By: chalabala

A dentist uses a curette to remove tartar from teeth.