A death rattle is a physiological phenomenon which occurs in someone who is near death. The death rattle often plays a role in fiction, with Victorian authors in particular being especially fond of describing this phenomenon in lurid detail. When a patient develops a death rattle, it usually means that he or she is within 24 hours of dying. However, certain medical conditions can cause similar symptoms, making proper diagnosis critical to ensure that there is not another underlying cause.
When the death rattle develops, a patient's breathing starts to sound gurgly, as though the patient is gargling, and the noise can resemble that of a rattling or fluttering. The condition is caused by the accumulation of saliva and mucus in the throat, through which air will be forced as the patient breathes. Although death rattle does not necessarily indicate that the patient is in discomfort, it can be disconcerting for the patient's family and loved ones.
The death rattle is caused because the patient's coughing and swallowing reflexes are impaired or absent. Normally, people swallow on a regular basis to drain oral secretions from their throats, and they can also cough to expel mucus. In someone who is dying, this may not be possible, and as a result, these fluids build up.
In end of life care, several techniques can be used to manage death rattle. The patient may be given fewer fluids to reduce secretions, and drugs can also be used for the same purpose. Topical applications of atropine to the throat, for example, will reduce the amount of mucus secreted. Suctioning can also be used to remove the accumulated fluid from the throat.
Other signs that a patient is in the end stages of death can include severely labored breathing, with or without a death rattle, along with jaw movements which correspond to each breath. Caregivers use these symptoms to identify a patient in the phase known as "active dying" so that they can provide specialized care and alert family members to the fact that death is imminent.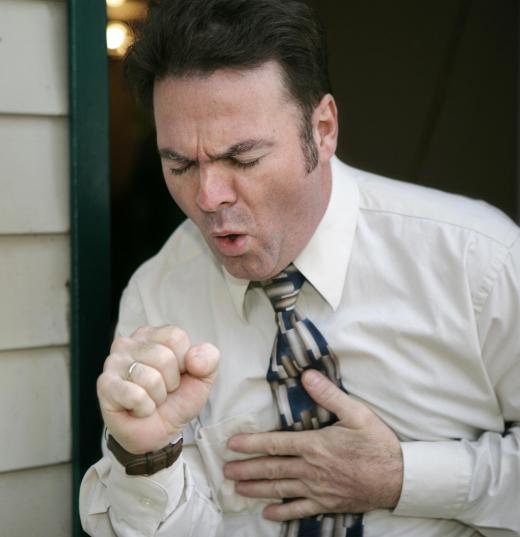 When a death rattle develops, it indicates that the patient should be provided primarily with supportive care, rather than medical measures which are designed to stave off death. Pain management medications may be used if the patient is experiencing a painful medical condition, and psychological comfort in the form of religious officiants, gentle touch from loved ones, soft music, and other means may also be provided.
AS FEATURED ON:
AS FEATURED ON:

By: CandyBox Images

A death rattle may occur when a patient is near death and experiencing trouble breathing.

By: arztsamui

One technique used to manage a death rattle is to reduce the amount of fluids a patient is given.

By: Lisa F. Young

If a person is near death, he or she may not be able to cough or swallow like a healthy person.

By: Les Cunliffe

People near death often report seeing a bright light.