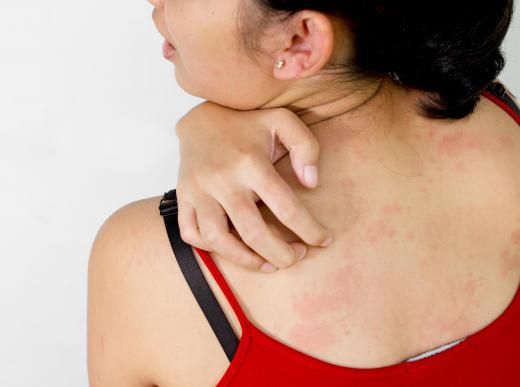 A diabetic rash is one of the types of rashes that commonly occurs for people who have diabetes, which is known to cause changes in a person's skin. There are several skin changes that are classified as diabetic rashes. These rashes include scleredema diabeticorum and thrush. Diabetic eczema and erythrasma are also skin rashes that occur as a result of diabetes.
Scleredema diabeticorum is one type of skin change that is classified as a diabetic rash. It generally appears on the upper back and neck areas. The skin thickens in these areas and will appear darker than the skin surrounding the patches. Although these patches do not appear as traditional rashes, they are called rashes because of the altering of the skin that occurs. Treating scleredema diabeticorum involves regulating sugar levels through dietary changes and increasing circulation through regular exercise.
Diabetic eczema is another type of diabetic rash that can occur. High sugar levels trigger a skin reaction, and areas of skin can become dry and itchy. When sugar levels remain high, the eczema worsens and can cause red patches, skin weeping, and boils. Topical eczema treatments can help alleviate the symptoms, but these areas cannot go away until the patient's sugar levels are brought down.
Thrush is caused by a species of yeast called Candida albicans and is common for diabetics to experience. It can cause a diabetic rash on the tongue or along the walls of the mouth. The yeast is stimulated by excessive sugar consumption and grows out of control. White clumps of yeast appear on the affected areas of the mouth. Treatments for thrush include anti-fungal medications.
Erythrasma is the fourth type of diabetic rash that can occur as a result of diabetes. This type of rash appears as a scaly red or brown patch. It resembles the skin changes that occur with infections such as ringworm. The skin changes that occur as a result of erythrasma are commonly found in the skin folds of the groin, neck, or armpits. Overweight diabetic patients are more likely to experience a rash caused by erythrasma because of the increase of skin folds and bacteria that are found in these folds.
Most cases of diabetic skin rash occur because sugar levels fluctuate too much or remain too high. Treatment for these rashes begins with getting sugar levels under control. Antibiotic or anti-fungal medications, including pills and ointments, can treat bacterial or fungal outbreaks. Cortisone and eczema creams can also help soothe itchy and dry or scaly patches that occur with many skin rashes diabetics may experience. General good hygiene can help reduce the chances that an infection occurs.


By: ampyang

Diabetic eczema can produce dry, red patches of skin.

By: defun

Most diabetic skin rashes occur because sugar levels fluxuate too much or remain too high.

By: librakv

Overweight diabetic patients are more likely to experience certain diabetic rashes.

By: Dmitry Lobanov

Most diabetic patients need to receive daily insulin injections to control their blood glucose levels and prevent rashes from developing.

By: Piotr Marcinski

A diabetic rash can cause itchy skin.