What Is a Distal Fibula Fracture?
The distal fibula is a bone in the lower leg on a human that is situated directionally on the outside of the leg. A common injury to this bone is a fracture, in which the bone becomes cracked as the result of a direct impact or trauma, an excessive twisting motion, or an undue stress on the bone. The fibula is a fairly thin bone, making it more prone to breaks. It is also attached to the ankle, which is an area of the leg exceptionally prone to damage from stress or impact.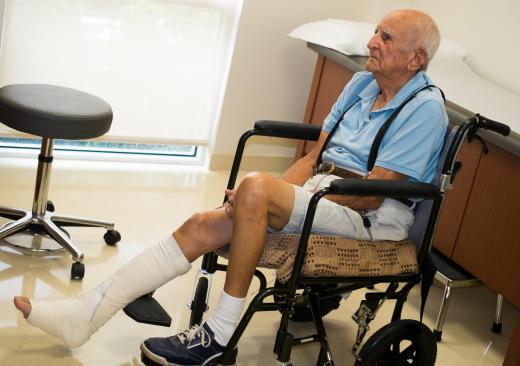 Children and athletes are most likely to have a distal fibula fracture, and the condition can be quite painful, depending on the severity of the injury. A stress fracture can cause a very small, hairline crack in the bone, and these are usually the least painful fracture types. The treatment for a hairline stress fracture will be adequate rest and immobilization to allow the bone to repair itself. The RICE treatment — rest, ice, compression, and elevation — is appropriate first aid should such an injury occur. It is often possible to walk on a leg suffering from a minor break, but this risks worsening the injury.
More severe fractures can be exceptionally painful and will require more medical attention. They may also be treated in the same manner as a hairline fracture, though a cast is likely to be put on the leg to prevent excess movement, and the healing time may be fairly prolonged. The most severe distal fibula fractures may require surgery to repair the bone using plates and screws; if the bone has ruptured any surrounding soft tissue, they may also need to be repaired during the surgery. Recovery time from such an injury can be quite long.
The most common way to suffer a fracture of the distal fibula is to roll the ankle severely. This is a common occurrence among children who are still developing coordination and athletes who participate in regular vigorous exercise. Anyone can incur such an injury, however, and the signs of such a break include pain in the lower leg, pain in the ankle, swelling in the lower leg and ankle, and a loss or reduction in mobility. Anti-inflammatory medications may be prescribed to help reduce inflammation, and painkillers can also be used to help reduce pain and discomfort during the healing process.


By: NICOLAS LARENTO

An x-ray of a severe distal fibula fracture.

By: Fotoluminate LLC

A distal fibula fracture can severely limit mobility until it is fully healed, especially in older adults.

By: Sasa Komlen

A cast will be put on a leg to prevent excess movement following a distal fibula fracture.

By: Grasko

Feet are able to pivot because of the ankle joint, which is made up of the tibia and talus, along with the distal fibula.

By: Patryssia

Fractures of the distal fibula in children may be serious because of the location of the growth plate.