A dorsal slit is a surgical procedure often performed to alleviate tight foreskin conditions, such as phimosis. It involves a precise incision along the upper aspect of the foreskin. Curious about how this procedure can improve men's health and comfort? Read on to discover more.
A dorsal slit refers to a surgical incision made on the foreskin of the penis. It is also sometimes referred to as a superincision. This type of incision can be utilized in several types of procedures. The most common surgical procedures requiring the use of this incision are circumcision and the treatment of a condition known as adult phimosis.
A dorsal slit is performed by beginning the incision at the tip of the foreskin. From this area, the incision continues to the corona, which is located behind the neck of the penis. This incision serves to expose the glans without any tissue needing to be removed. The glans represent the sensitive area on the head of the penis. This area has the same function in a male that the clitoris has in a female.
This method of circumcision is no longer the medical standard in many parts of the world. It has largely been replaced by less invasive methods, especially in countries such as the United States. The dorsal slit method only provided a partial circumcision, whereas more complete methods of circumcision have become more favored. With that said, this method has a history that goes back at least as far as ancient Egypt.
It is much more common in modern times to see the dorsal slit method of incision used to treat the condition of adult phimosis, although more modern procedures are rapidly replacing this method of treatment as well. Phimosis is medical condition in which the foreskin does not completely retract from the head of the penis. This can be a condition present from birth, or it can develop at any time through adulthood.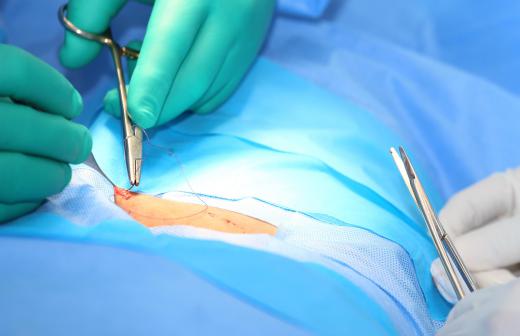 Paraphimosis is another condition in which the dorsal slit method is sometimes used. With this condition, the foreskin is able to retract. The problem in paraphimosis is that the skin can not be returned to the position it was in before being retracted. Manual methods of moving the retracted skin back to its former position are attempted before resorting to the dorsal slit procedure.
Why Is a Dorsal Slit Procedure Performed?
A dorsal slit procedure is generally performed in cases of emergency. Since it is an unpopular choice for circumcision, it might be necessary if the foreskin of the penis is too tight, causing discomfort and other complications. 
In certain circumstances, restricted blood flow to the penis could cause permanent damage. In this case, the procedure would be performed not only to alleviate discomfort but to prevent long-term damage to the glans of the penis.
How Do You Prepare for the Dorsal Slit Procedure?
Patients undergoing this procedure should consult a medical professional to discuss the process and recovery. Medical professionals can also discuss alternatives to this procedure, if applicable. 
Often, a physician will recommend a topical steroid cream as a first step. If steroids have no effect, a physician could recommend circumcision or the dorsal slit as a treatment for phimosis. If this does not work, or if there is an emergency, this might not be possible. 
What Is Phimosis? 
Phimosis is a condition in which the foreskin (prepuce) cannot be retracted over the glans penis. This often occurs in children. Phimosis can occur naturally (physiologic phimosis) from birth or due to inflammation or traumatic injury (pathologic phimosis). 
Because this is naturally occurring, phimosis doesn't become a problem until a patient presents with symptoms. These include:
Redness or discoloration, especially if it's due to infection
Inflammation
Soreness
Pain while urinating 
Pain during sexual activity
Phimosis is treated with topical steroids as an alternative to the dorsal slit procedure, but in cases where phimosis is severe, a dorsal slit is an acceptable option. 
What Is Paraphimosis? 
Similar to phimosis, paraphimosis occurs when the foreskin becomes trapped behind the head of the penis. Men experiencing this condition cannot pull their foreskin down to cover the end of their penis. 
Paraphimosis commonly occurs after medical procedures involving the penis, such as catheterization. It can also occur during regular hygiene procedures. 
Unlike phimosis, which can resolve on its own in many cases, paraphimosis is a medical emergency because it could potentially cut off circulation to the head of the penis. If left untreated, this could lead to lasting and profound effects. 
Physicians typically recommend circumcision to treat paraphimosis, but the dorsal slit technique can be a strong alternative for those wishing to avoid a more complicated procedure. It can also be an alternative for those who are unfit candidates for circumcision due to cultural reasons. 
Why Is a Dorsal Slit an Alternative to Circumcision?
Circumcision refers to the removal of a male's foreskin and is a common practice in many countries and cultures. Despite dorsal slits being an ancient medical procedure, it is often accompanied by negative psychological effects similar to those seen in circumcision.
Because the dorsal slit procedure does not remove the patient's foreskin, it could be deemed more acceptable to those refusing or wishing to avoid full circumcision. 
Can a Dorsal Slit be Reversed?
Because the dorsal slit does not remove any skin, it can be reversed through additional surgery. Still, due to the likelihood of conditions such as paraphimosis to recur, reversals are uncommon. 
Again, potential patients should consult a medical professional before the procedure to discuss possible reversals or recurrences of conditions. 
How Long Is the Recovery Time?
Patients undergoing this procedure will likely experience swelling and bruising of the penis. Patients can use over-the-counter painkillers to alleviate these symptoms. 
Stitches usually dissolve within three to four weeks. 
What Complications Can Arise After a Dorsal Slit Procedure?
Like with any surgery or operation, several complications can occur after the procedure. In this case, contact your health care provider for further instructions. Some of these complications can include:
The risk of hemorrhage
Damage to the penis
Pain at the incision site
Infection
Swelling, bruising, or bleeding around the wound site
Anaesthetic complications
While some of these complications that can occur after a dorsal slit procedure are more common than others, it is a good idea to contact your doctor if you have any questions or concerns.
AS FEATURED ON:
AS FEATURED ON:

By: ProMotion

A dorsal slit is a surgical incision made on the foreskin of the penis.

By: dacasdo

Phimosis treatment may involve surgery.

By: dacasdo

A dorsal slit incision must be kept clean in order to avoid infection.

By: Tyler Olson

The dorsal slit method may be used to treat paraphimosis.