What is a Fiberglass Cast?
A cast is one of the preferred techniques to immobilize the bone of a limb that has been injured by fracture, dislocation or break. A fiberglass cast is a lighter, synthetic alternative to the more traditional plaster version. It is created by padding the extremity with cotton or waterproof padding material, followed by wrapping several layers of knitted fiberglass bandages impregnated with a water-soluble, quick-setting resin. It is lighter and more durable than plaster, so fiberglass has quickly become the preferred type of casting with many patients and medical care providers.
Fiberglass has many advantages over a plastic cast. The first thing most patients notice is that the cast weighs less and is more comfortable. It is made of water-activated polyurethane resin combined with bandaging materials, so this material offers greater strength and less time for setting, as well. Casts made of this material require less maintenance than those made with plaster and often are used after the healing process already has begun.
The fiberglass bandages on the outside of the cast are waterproof, but typically, most of the padding materials inside the cast are not. Waterproof materials have been developed to replace this inside padding with a waterproof alternative. This offers an option that would allow patients the ability to bathe or shower, wash hands, do chores and even swim while wearing a cast. The material also is reported to cut down on odor and itching by helping to wick moisture away from the skin under the cast.
As with any type of cast, fiberglass has its drawbacks. It sets quickly, so a less-experienced medical care provider has less time to properly wrap the injured extremity. Many opponents to the use of fiberglass casts claim that synthetic materials leave less room for swelling. They are not always appropriate for more complex fractures where the bone is out of position. Plaster is more moldable than the knitted fiberglass and resin bandages, so a more comfortable fit can sometimes be achieved with plaster. Further, plaster is smoother and less likely to snag clothing or to rub skin raw.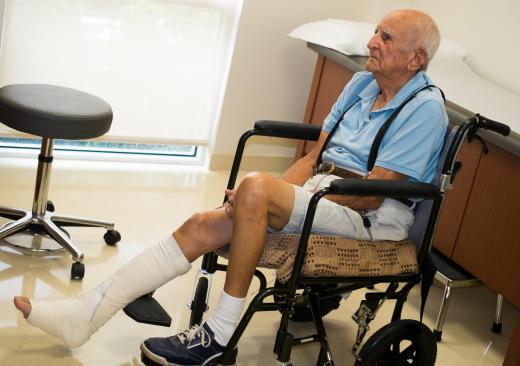 Medical professionals advise patients wearing fiberglass casts to report any rough spots that snag clothing or chafe skin immediately to their medical care facility for repair. Cracks are easily repaired but are not very likely to occur. Experts also encourage patients to report any foul odor or damage to the padding of the cast.
AS FEATURED ON:
AS FEATURED ON:

By: sarapon

Fiberglass casts require less maintenance than casts made from plaster.

By: Sasa Komlen

Traditionally made from cotton bandages soaked in plaster of paris, casts are now often made with Fiberglass.

By: Fotoluminate LLC

In most cases, casting and rest is enough to allow a bone to heal on its own without surgery.

By: CandyBox Images

Waterproof bandages allow patients to wash their hands.

By: amawasri

An adjustable brace may be used on a broken limb until the swelling goes down enough for a cast.