What Is a Fibula Stress Fracture?
The fibula is a bone in the lower leg that is quite long and very thin. When this bone is required to support more weight than it is able to, a stress fracture may occur. This fibula stress fracture is essentially a small crack in the bone, and it can cause moderate to significant pain for the sufferer. The fibula stress fracture is far less common than a fracture of the tibia, which is the larger bone to which the fibula is attached, but it can occur, especially in athletes or other people who spend a significant amount of time walking or running.
The fibula stress fracture usually occurs as the result of twisting in the leg or muscle injury, and while this is a less common injury than a tibia fracture, it is just as important to treat the fibula stress fracture correctly and quickly. First aid for the injury involves the RICE treatment — nor, rest, ice, compression and elevation — and immobilization. These actions will prevent further injury and will help keep swelling and pain to a minimum. The RICE treatment will further promote blood flow to the injury, which will encourage faster healing.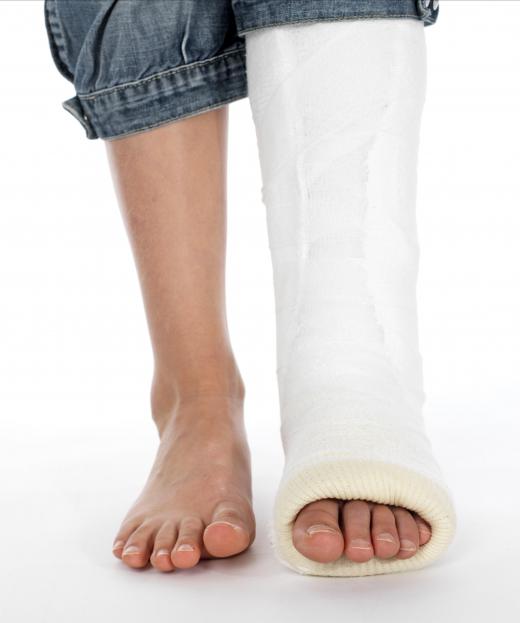 Long-term treatment may involve immobilizing the leg with a cast or simply staying off the injured leg and using crutches for a period of time. Smaller fractures will generally heal on their own given enough time and rest, though more serious instances of a fibula stress fracture may need to be addressed surgically. This is extremely rare, as the stress fracture would have to be quite large to warrant an operation.
Once the fibula stress fracture has had some time to heal, it will be important for the person suffering from the injury to rehabilitate the leg. After several weeks of staying off the affected leg, the muscles and other tissue of the leg will have weakened or undergone some attrition, so it will be necessary to undergo physical therapy. An experienced physical therapist will be able to help the person rebuild muscle and proper functioning of the lower leg without re-injuring the fibula or causing other problems that may prolong the healing period. Once the regimen of physical therapy is over, the person will still need to maintain the strength of the leg through exercise.
AS FEATURED ON:
AS FEATURED ON:

By: kameel

A cast may be used to treat a fibula stress fracture.

By: andreaxt

X-rays typically won't show a tibial stress fracture.

By: AVAVA

Immobilizing and leg and using crutches may be necessary to heal a fibula stress fracture.