What is a Ganglion Wrist Cyst?
A ganglion wrist cyst is a visible lump that appears on the top, bottom, or side of the wrist joint. Most cysts are benign, and doctors are uncertain what causes them to appear. Treatment is usually not necessary for ganglion wrist cysts, as they do not often cause symptoms of discomfort and tend to disappear on their own with time. A person who wishes to have a cyst removed for aesthetic purposes can visit a physician, who can drain the fluid, burst the lining of the cyst, or surgically cut out the lump. Before providing treatment, the doctor can inspect the cyst to make sure it is not another more serious condition such as a bone spur or cancer.
The thick liquid that builds up inside a ganglion wrist cyst is synovial fluid, which normally acts as a lubricant and cushion in joints. In the case of a cyst, the fluid leaks out of the joint, condenses, and protrudes outward on the skin. The result is a small, visible, semi-hard lump. Cysts are rarely larger than one inch (about three centimeters) in diameter, and tend to grow larger when wrists are in use. It is generally unclear what prompts a ganglion wrist cyst to form, but many doctors believe that a wrist injury and arthritis can increase the likelihood that one will appear.
Ganglion cysts are noncancerous, asymptomatic, and usually do not require treatment. It is possible, however, for a cyst to grow large enough that it puts pressure on the joint or nerves, which can lead to pain and mobility issues. If a person decides to seek treatment to relieve pain or improve the aesthetic appearance of the wrist, he or she can visit a dermatologist or primary care physician.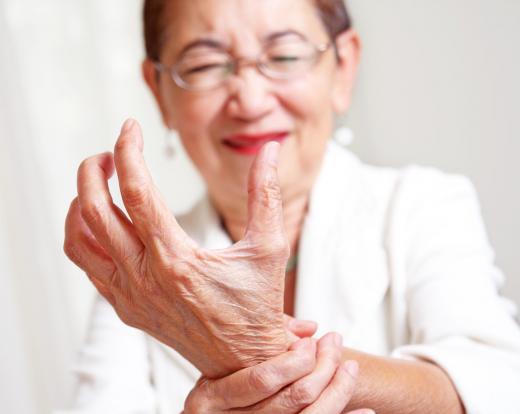 A doctor will usually conduct a number of tests to diagnose a ganglion wrist cyst and rule out other conditions that could form a lump. A physical examination, x-ray, and magnetic resonance imaging scan can allow the doctor to check for tumors or other abnormal growths. The doctor may also use a needle to extract a small amount of liquid from the cyst to confirm that it is normal synovial fluid.
The most common treatment for a ganglion wrist cyst is simply hitting it with a heavy, flat object to break it open and disperse fluid. Another option for smaller or harder cysts is draining the fluid with a needle in a procedure similar to the one used in making diagnoses. It is possible for a treated cyst to come back if all of the fluid is not drained. A lump that is especially large or continues to reappear after several treatments may require surgery to remove it entirely.
AS FEATURED ON:
AS FEATURED ON:

By: psdesign1

The cause of ganglion cysts is not known, but they are more likely to affect those with osteoarthritis or previously injured tendons or joints.

By: maska82

A person can develop one large ganglion cyst or several smaller ones.

By: michaeljung

A dermatologist may be consulted about treating a ganglion wrist cyst.

By: manaemedia

A ganglion cyst is sometimes referred to as a Bible bump, because an old cure called for hitting the bump with a Bible.

By: Monkey Business

A doctor will usually conduct a number of tests to diagnose a ganglion wrist cyst and to rule out other conditions that could cause a lump to form.

By: Von Schonertagen

A ganglion wrist cyst can lead to pain and mobility issues.

By: Kadmy

Some believe that repetitive motion injuries, such as those often suffered by factory workers, can lead to ganglion cysts.