What Is a Graves Speculum?
A Graves speculum is an instrument used by gynecologists during a pelvic examination. It is designed to spread the walls of the vagina so that the doctor can view the cervix. It is one of several available specula for this purpose and is one of the most commonly used.
In order to properly inspect the vaginal canal and cervix, the walls of the canal must be parted enough to allow a clear visual assessment. The Graves speculum accomplishes this by using two rounded "blades" to lift the tissue away from the center of the canal. A ring in the center of the instrument provides a "window" to the cervix.
The blades of a Graves speculum are curved, allowing them to fit more naturally into the vaginal canal. The device is inserted with the blades closed. The blades are then parted by means of a manual screw. As the blades move farther apart, they create the space through which the doctor can assess the inside of the vagina.
Doctors will also need a light source in order to perform a proper inspection. Often, this light comes from an independent source that can be angled according to the doctor's needs. Some Graves specula however, include attached lights, which are usually adjustable as well.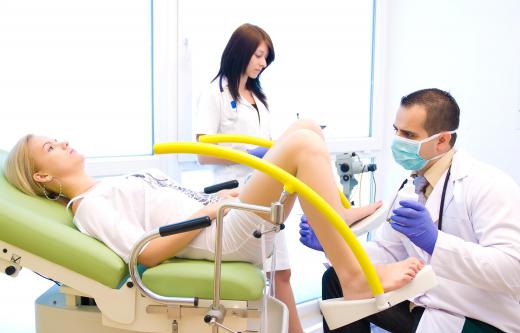 Graves specula come in a variety of sizes so that the doctor can choose the most appropriate instrument according to the weight, condition, and sexual history of the patient. They vary in length from 3.5 inches to 5 inches (about 8.75 cm to 12.75 cm). They are made of metal, most often stainless steel, and should be fully sterilized between uses.
For a general exam, the speculum often is coated with a lubricant to ease discomfort. Some lubricants can interfere with test results, however, so if the doctor intends to take tissue samples, she will either use a non-contaminating lubricant or use none at all. Discomfort associated with use of a Graves speculum should be minimal for most women. Intense discomfort can be a sign of a more serious condition.
Development of the Graves speculum and other speculum types significantly advanced the capability of doctors to diagnose and treat gynecological conditions. The ability to perform a complete visual inspection allows the doctor to identify abnormalities that may be undetectable by touch, such as discoloration, spotting, or other issues. Such signs may indicate an easy-to-treat problem, such as an infection, but may also provide early warning signs of serious diseases, such as cervical cancer.
AS FEATURED ON:
AS FEATURED ON:

By: Stefan Gräf

A Graves speculum.

By: Zsolnai Gergely

Gynecologists use a Graves speculum to examine a patient's cervix during a pelvic exam.

By: OLIVIER THURET

Doctors use the speculum to gain greater access to, or more easily observe, the vagina, rectum or other body opening.