A nodule is a small mass of tissue which forms in or on the body, usually in response to injuries. Nodules are typically hard and they can be easily felt. For the most part, the masses are benign, requiring no medical action, but sometimes they can interfere with the function of the body, or they may be malignant. For this reason, people should consult a doctor if they notice a mass, so that the doctor can determine whether or not the issue needs to be addressed.
The term "nodule" comes from a Latin word meaning "knot." These usually benign clusters of tissue often do feel sort of like knots, and in some cases, they can pull on the surrounding tissue in the area to make it feel tight or sore. In many cases, nodules on the inside of the body are discovered accidentally in the course of checking a patient for other problems, as a growth inside the body takes some time to become visible or palpable.
Tendons and muscles are both prone to developing nodules in response to injury, with masses appearing in areas like the vocal cords fairly frequently.These masses can also appear on the skin or in the layers of the skin, in which case they are usually very noticeable because they are visible. Organs, glands, and other parts of the body can also develop masses, as for instance in the case of thyroid nodules.
Upon examination, a nodule is often paler than the surrounding tissue. When palpated, the growth may feel hard or rubbery, and it is usually roughly spherical in shape. Often, multiple nodules form together in a cluster like a bunch of grapes, and they can vary in size but they generally remain quite small. The area around the mass may be red and inflamed, or it may appear normal, depending on the reason it formed, how large it is, and where it is.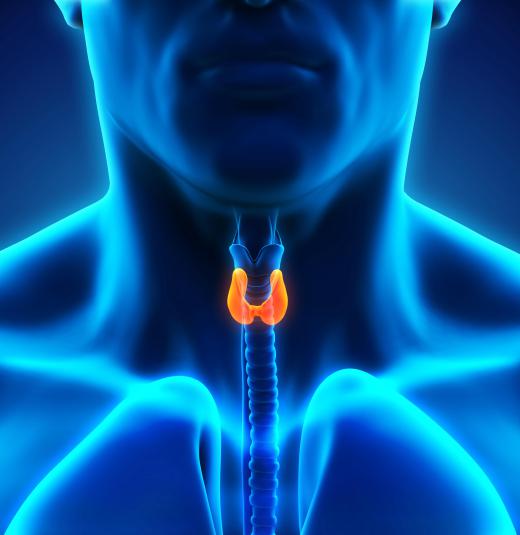 If a doctor suspects that a mass may become a problem, he or she may recommend that the growth be removed. They can interfere with the function of part of the body, which is a good reason for removal, and people may also have nodules removed for aesthetic reasons. Removal may also be performed for the purpose of examining the mass to determine if it is malignant.
The development of a nodule is not an immediate cause for concern. A doctor will usually evaluate the growth and take a wait and see approach to see if it changes or grows larger. If the growth or the area around it becomes sore or painful, a doctor should be consulted.
AS FEATURED ON:
AS FEATURED ON:

By: hitdelight

Singing for extended periods of time can cause small nodules on the vocal cords.

By: Shakzu

A doctor can be consulted to determine the seriousness of a nodule.

By: nerthuz

The thyroid is one gland that may be subject to nodules.

By: stockshoppe

The thyroid can develop a small mass of tissue called a nodule.

By: Dario Lo Presti

Thyroid nodules may be discovered when checking for other conditions.