A respirator is a device that is worn over the mouth and nose to protect the wearer from occupational and environmental hazards such as harmful airborne particles and gasses. There are many different styles, and their functionality varies with the style. Not to be confused with a ventilator, which actually assists in breathing, a respirator either forces air through a filter before it is inhaled or supplies an alternate, clean source of air for a duration of time. It is common in the workplace in fields where workers are exposed to harmful chemicals, dust, debris, or gasses.
Various forms of the respirator have been around for centuries and initially consisted of only tightly woven fabric dipped in water. The modern versions commonly associated with industrial use today were first developed in the late 1800s. Most varieties feature filters that trap incoming dust, debris, and other particles in the air. They may use a mechanical cartridge or a chemical cartridge and work by purifying the air as it passes through the filters on the respirator on its way into the nose and mouth.
For industrial uses, a respirator is often required under occupational safety guidelines. Workers who must work in areas where lead, asbestos, or other harmful toxins or hazardous chemicals are located are often required to wear one. Other uses include medical conditions, such as severe asthma or chronic obstructive pulmonary disorder (COPD), and personal protection from chemical or biological hazards.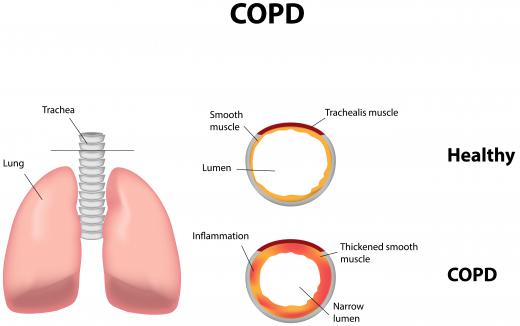 A respirator is only effective if it has been properly fitted to an individual wearer and the individual has received training or instruction on proper use and maintenance. For the device to function correctly, the wearer must first be fitted for his or her respirator. A fitting requires a pulmonary exam by a licensed medical professional and includes breathing and pulmonary function tests as well as other physical evaluations. Following the test, those who pass are fitted with a device that is calibrated to their unique test results based on their body's performance during exam. Wearing someone else's respirator does not guarantee protection and can actually create additional risk.
AS FEATURED ON:
AS FEATURED ON:

By: dmitrimaruta

Protective clothing is required when working in hazardous environments.

By: joshya

Those with COPD may use a respirator.

By: kostrez

Respirator masks can protect workers from harmful gases and chemicals.

By: WavebreakmediaMicro

A respirator may be used for people with certain medical conditions that make it difficult to breathe.

By: Ilike

People who suffer with severe asthma may utilize a respirator or inhaler.

By: SENTELLO

People who have breathing problems may require use of a respirator.