What Is a Septal Infarction?
A septal infarction is a medical condition in which the heart of a human or animal has a patch of dead, dying, or decaying tissue. This is almost always the result of a heart attack, and some medical experts describe it as a wound on the heart. Damage caused by an infarction can be seen most directly during surgery, but it will also usually show up on an electrocardiogram (EKG or ECG) scan, which is completely non-invasive. Once identified, medical practitioners can often help patients recover — but in many cases the damage is more or less permanent. The heart is usually forever weakened because of infarctions, though there are a number of things patients can do to minimize further incidents and to help their hearts heal properly.
Heart Basics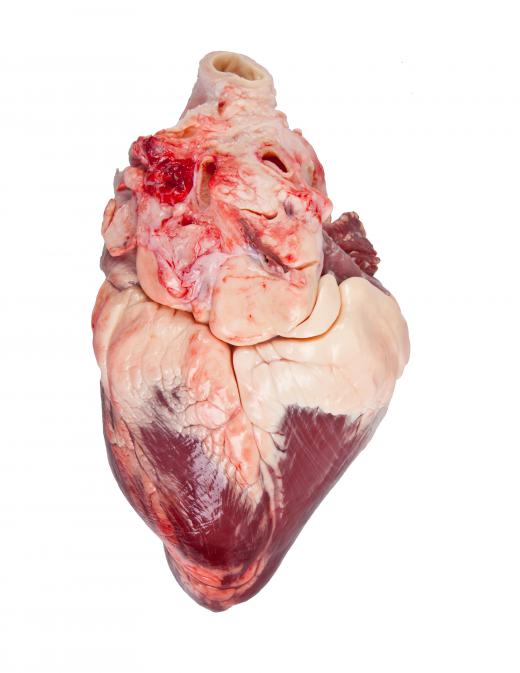 The human heart is divided into four chambers called ventricles and atria; two are on the right, and two on the left. The septum is the muscular wall that divides these chambers. "Infarction" is the medical name given to an area of damaged or dead tissue, and a septal infarction happens when the septal wall is damaged. This damage can happen anywhere along the wall's surface, and can be very big or relatively small.
A myocardial infarction is a similar type of wound or dead area of the heart, but the difference is that a myocardial infarction can happen almost anywhere on the heart. Septal problems are specific to the ventral and atrial walls. Some experts say that septal infarctions are actually specific types of myocardial infarctions, though this is a subject of some debate.
Why Infarctions Happen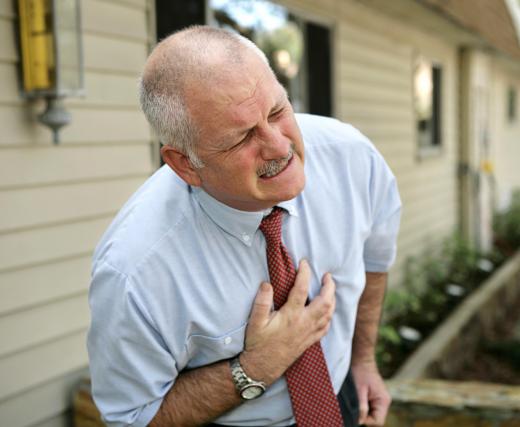 In almost all cases, both myocardial and septal infarctions are the result of a heart attack. Heart attacks are very serious medical crises that happen when the heart stops getting oxygen, usually because blood flow has been blocked in one of the major arteries. The heart, like most muscles, requires a steady flow of oxygen to function properly, and the longer it goes without, the more extensive the damage is likely to be. Oxygen loss usually causes muscle tissue to die and be replaced with tough, dense scar tissue.
How Damage Is Identified
The easiest and least invasive way to identify this sort of damage is through an EKG scan, which is a test in which small electrodes are placed at various places on the body to detect electric impulses. Having an EKG is a painless procedure that allows the beating of the heart to be plotted, or graphed, on a chart in a pattern of waves. Medical professionals then study and interpret these wave patterns to determine if there are any signs of heart disease or damage. Many factors can throw off the reliability of an EKG, however, so just because wave patterns indicate the possibility of a septal infarction doesn't necessarily mean there is one. One cause of a false report on an EKG is improper placement of the electrodes; interference with signaling can also contribute.
Healing and Prevention
People usually heal from this sort of damage, but in most cases only partially. The heart can't stop or slow down to rest, and it also can't be immobilized the way something like a broken arm could be. Septal tissue scars when it heals, too, and scar tissue tends to be rigid and often reduces the efficiency of the heart. As a result, people who have suffered one infarction are more likely to suffer more in the future because the whole structure is weakened.
There are a few things people can do to reduce their risk of damage in the first place, as well as to speed healing once problems have occurred. Some physical conditions that are precursors to an infarction include obesity, smoking, diabetes, and raised cholesterol. A person with two or more of these conditions runs the risk of clogging up the vessels that supply blood to the heart and, when the heart is cut off from an adequate blood supply, its tissue begins to die very quickly. Keeping active, eating well, and avoiding tobacco and excessive alcohol consumption are some of the best things people can do to ward off this sort of problem.
Can a Septal Infarction Be Fatal?
The septum is a thin muscle, and any amount of damage can prove extremely dangerous. If it ruptures, emergency surgery is required as quickly as possible. If doctors do not promptly repair it, the blood from one side of the heart can overflow to the other, resulting in death by drowning in blood. 
Too often, septal infarction can go undetected until it is too late. If you show signs of a heart attack, it's critical to call 911 or get to a hospital immediately. Knowing the signs and symptoms can be lifesaving, so never underestimate them. 
It can be something as simple as neck or back pain to something more severe like tightness in the chest and trouble breathing. Women tend to have more atypical symptoms than men, such as nausea and fatigue. Here are many signs to watch out for that can be symptoms of an infarction:
Chest pain
Heartburn or indigestion
Back pain
Neck pain
Pain in the left arm 
Cold sweats
Lightheadedness or dizziness
Nausea/stomach pain
Shortness of breath
While lifestyle and family history play a significant role in who is at risk for heart disease, it's important to remember that nobody is immune. Even healthy people with no apparent risk factors can fall victim to heart problems. 
Does Septal Infarction Require Surgery? 
In most cases, doctors will try to delay surgery as long as possible and attempt non-invasive means of healing. However, studies have shown that older patients tend to deteriorate rapidly, and sometimes, surgery cannot be delayed for long. 
Of course, the severity of the septal infarction makes all the difference in whether or not a patient may require surgery. In minor cases of septal infarction, the body will heal itself over time, and the patient may need occasional checkups. 
However, sometimes the damage may be too severe for the body to heal on its own, and a patch or other surgical method may be required. Intervention tends to happen more frequently in patients over 60, as the heart grows more fragile and can be easily damaged. 
Heart surgery is a complex and challenging operation, and recovery is brutal. These operations can be lifesaving, but sometimes all they can do is buy the patient a few more years. For example, a study from the National Library Of Medicine stated that survival rates for those who underwent postinfarction ventricular septal perforation were less than 50% after ten years. 
How To Increase Your Odds of Beating Heart Disease 
As previously mentioned, there are many things you can do to both prevent heart attack as well as heal faster in the aftermath. However, it's important to note that those who have had a heart attack are much more likely to have a second one. Over 20% of those who have had a heart attack will have another within five years. 
So, whether you have already experienced a cardiac event or if it runs in your family and you want to take preventative measures, here are some crucial steps to maintain a healthy lifestyle. 
Reduce Stress
Stress can have more detrimental effects on the body than anyone may realize. Whether it is from work, family, or personal issues, stress and anxiety can affect our mood, health, and behavior. Common side effects of a stressful life include headaches, fatigue, changes in sex drive, and sleep problems. 
There are many ways to manage stress, and you must find what works for you. Some great options would be: 
Weekly massage 
Deep breathing or meditation
Limiting screen times
Diffusing essential oils 
Get Moving 
Just because you may not be considered obese does not mean your body is healthy. Sedentary lifestyles increase your risk of heart disease many times over. If you struggle to find ways to be active, here are some excellent ways to start: 
Go for a walk
Take the stairs
Take a class (yoga, spin class, dance)
Invest in a standing desk
Watch What You Eat
It should go without saying that things like alcohol, sugar, salt, and high-fat foods are terrible for you. It can be hard to switch up your diet all at once, but the change must happen if you're committed to living a healthy lifestyle and preventing any future heart attacks. 
Start with baby steps, and work your way up to a healthy diet. Experiment with alternative solutions, such as low-fat dairy options, vegetarian meat options, or alternative sweeteners. Simply put: be conscious of what you put in your body. 
Frequently Asked Questions
What is a septal infarction?
A septal infarction is a type of heart attack that happens when there is an obstruction in the coronary artery, which supplies blood to the heart. The wall separating the left and right sides of the heart, known as the septal wall, cannot receive oxygen-rich blood because of this obstruction. If the septal wall does not get enough oxygen, it can become damaged and die, resulting in a septal infarction.
What are the risk factors for a septal infarction?
Age, smoking, diabetes, high cholesterol, high blood pressure, obesity, and a sedentary lifestyle are all risk factors for septal infarction. A family history of coronary artery disease or heart disease is another risk factor. Men are also more likely than women to have a septal infarction.
How is a septal infarction diagnosed?
A physical examination, medical history, and a number of tests are often used to determine the presence of a septal infarction. An electrocardiogram (ECG), an echocardiogram, a cardiac catheterization, and a cardiac MRI are a few examples of these examinations.
An echocardiogram is used to assess the size and form of the heart, whereas an ECG is used to examine the electrical activity of the heart. 
A cardiac MRI may be used to find blockages or damage to the heart, while cardiac catheterization is used to evaluate the pressure within the arteries.
What are the treatments for a septal infarction?
Medications that lessen blood clotting, expand the arteries, and decrease blood pressure are often used in the treatment of septal infarctions. The risk of a septal infarction must also be reduced via lifestyle modifications such as stopping smoking, increasing physical exercise, and eating a nutritious diet. Surgery could also be required to clear obstructions or fix tissue damage. To assist in controlling heart rate, a pacemaker or defibrillator may sometimes be installed.
What are the long-term effects of a septal infarction?
A septal infarction may have long-term repercussions, such as heart failure, arrhythmia, and a higher risk of stroke or another heart attack. The weaker heart that results from the injured cardiac muscle may also induce exhaustion and shortness of breath. In order to lower their chance of suffering another infarction, those who have already had a septal infarction must manage their risk factors and alter their lifestyles.
AS FEATURED ON:
AS FEATURED ON:

By: digitex

A septal infarction is a patch of damaged or dead tissue on the heart.

By: olegpchelov

Damage caused by an infarction will usually show up on the results of an ECG.

By: Lisa F. Young

A septal infarction is almost always the result of a heart attack.

By: Photographee.eu

Avoiding tobacco and alcohol consumption may help prevent the development of a septal infarction.