A teratoma is a type of germ cell tumor which contains several different types of cells, caused when germ cells run amok and start replicating where they shouldn't. This type of tumor is actually present at birth, but it may not be noticed until later in life, and it could be considered a form of congenital birth defect. Most teratomas are benign, but some can become malignant, especially if they are located in the testes.
The word "teratoma" literally means "monstrous tumor" in Greek, a reference to the jumbled mass of tissue types which is common to these tumors. They can contain skin, hair, bone, and cells like those found in various organs and glands. In some cases, structures such as eyes and extremities have developed. They can be found anywhere in the body, and in some cases, the tumor may even be visible during ultrasound examinations, in which case, it may be possible to remove the tumor before birth.
To be considered a true teratoma, the tumor must contain all three layers of the germ cells. Germ cells are very unique because they can divide and differentiate into anything, from the upper layers of the skin to the internal organs of the body. In the case of this tumor, a pocket of germ cells starts to multiply, and several different types of tissue begin to develop, but the tissue is usually not functional.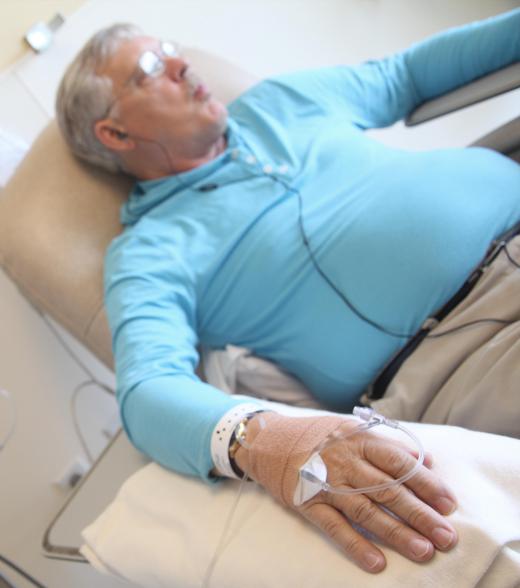 Historically, these tumors were a topic of intense interest. Especially large teratomas or growths with unusual complexity were preserved in anatomical collections as examples of curiosities, and the opportunity to see or operate on one was exciting for many medical practitioners. Now that we know how the tumors form, they are much less mysterious, but they can still be rather interesting.
Teratomas can grow quite rapidly, and they may cause a variety of symptoms, depending on where they are located. Benign tumors can cause inflammation, abdominal pressure, and obvious swellings, while malignant tumors can start to spread to neighboring organs, causing a decline in organ function.
The treatment is removal. Once the tumor is removed, it will be examined to determine whether or not it is malignant. In the case of a malignancy, chemotherapy and radiation may be used to prevent the recurrence of the tumor, and to address the tumor's spread to neighboring organs, if this has occurred. The prognosis for patients with malignant tumors varies, depending on the location of the tumor and when it was identified.
AS FEATURED ON:
AS FEATURED ON:

By: JorgeAlejandro

A teratoma is present at birth, but may not be noticed until later in life.

By: nebari

Chemotherapy may be used to prevent the recurrence of teratomas that have been removed.

By: prudkov

Chemotherapy and radiation treatment may cause hair loss in some patients.

By: Klaus Eppele

Ultrasounds may be useful in detecting teratomas.

By: tomschoumakers

Teratomas can become malignant if they are located in the testes.