What Is a Three-Phase Bone Scan?
A special type of medical imaging test known as the three-phase bone scan is recommended by doctors when trying to diagnose a condition known as osteomyelitis — a bacterial infection of the bones and its marrow. This nuclear medicine examination involves injecting a small amount of radioactive material into the bloodstream. Then, three series of scans are performed at three different times.
The first images in a three-phase bone scan are taken almost immediately after injecting the radioactive isotope, often called Technetium-99. A second phase comes four hours later. The final series takes place 24 hours after the shot has been administered. For each series of photos, the patient merely lies on a table for between 20 minutes and an hour. Occasionally, patients may be asked to shift position for a set of images focusing on a particular part of the body.
Unlike other nuclear medicine tests, patients can eat and drink before a three-phase bone scan. Before the test, they also may be asked to drink extra water to keep the radioactive material from building up in the bladder. Patients are urged to regularly empty their bowels and drink extra water between each of the three scans. The Technetium-99 isotopes, generically called radionuclide tracers or radiotracers, are typically injected at the crook of the elbow.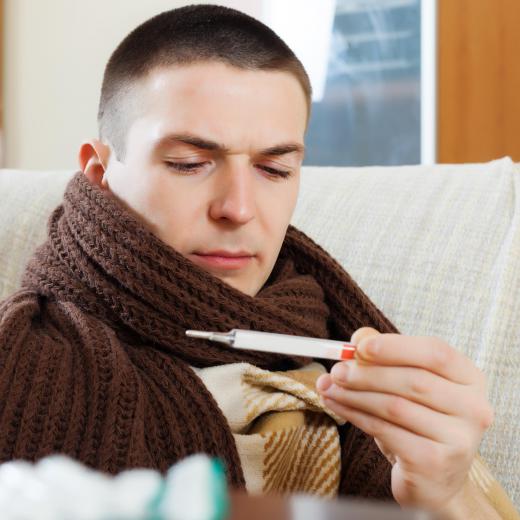 Often, the entire body will be scanned during a three-phase bone scan. This is performed by a gamma camera, which records the spots that have absorbed the greatest amounts of radionuclide tracers. This information can then be used to identify areas in the bones where osteomyelitis has taken root. Since it could interfere with results, jewelry must be removed before most nuclear medicine scans. Also, over-the-counter drugs like Pepto-Bismol® should be avoided, since they contain a metallic element called bismuth — another isotope that could interfere with results.
A shorter version of the three-phase bone scan is also available. This test is used to diagnose metastatic bone disease, which is a form of cancer. Just an immediate series of images as well as another series about four hours later is all doctors need to identify this condition, which is marked by cancer cells spreading from one part of the body to another. Several other types of bone scans are regularly performed to identify cancerous tumors, hard-to-spot fractures, and a range of metabolic disorders.
AS FEATURED ON:
AS FEATURED ON:

By: Lisa F. Young

A three-phase bone scan is recommended by doctors when trying to diagnose a condition known as osteomyelitis.

By: JackF

Symptoms of osteomyelitis may include fever and chills.

By: Dusan Kostic

Osteomyelitis may cause swelling of the ankles and feet.

By: WavebreakmediaMicro

The elderly are susceptible to developing osteomyelitis.