What is a Titanium Implant?
Titanium is a strong, lightweight, silver-gray metal that is found fairly commonly in igneous rocks and geological deposits. Titanium has a number of impressive properties, including the ability to bind with human bone in a process called biointegration or osseointegration. Because of this, and the fact that the body will not reject it, this metal can be used for a number of medical and dental purposes. Hip and knee replacements, for example, often involve the use of a titanium implant.
The unique properties of titanium make it especially suited to medical applications. It is very strong for its weight, virtually nonmagnetic, and totally compatible with the human body. This is highly noteworthy, because metallic elements are not found in very many places in the human body. Where metals exist, they are almost always there as parts of other molecules and complexes rather than in elemental form. Such is the case with iron, which bonds with oxygen in the bloodstream.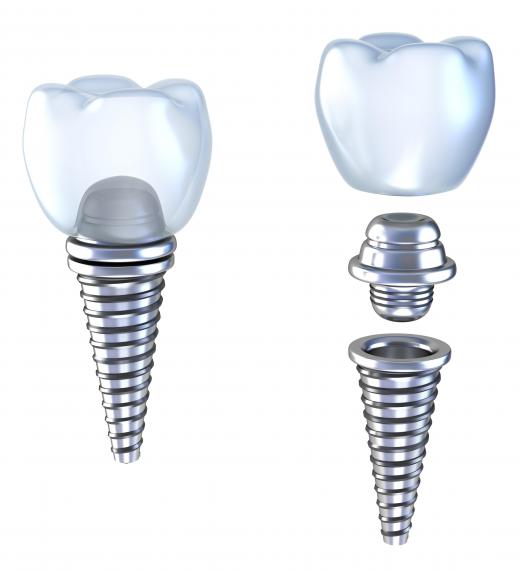 About one million patients worldwide are treated every year for replacement of arthritic or damaged hips and knees. The range of available alloys of titanium allows the designers of implants to closely tailor the material for its desired application. A titanium implant of the correct alloy will not corrode once inside the body, as an implant of any other metal would. It is one of the few materials that naturally meet every requirement for implantation in the human body.
An additional advantage offered by titanium is that there are ways in which to treat the surface of a titanium implant so as to further encourage osseointegration. For example, giving the implant a roughened surface and treating it with a bioactive agent such as hydroxyapatite, will stimulate osseointegration and also increase the lifetime of the implant. This is of particular importance for younger patients, and also because older patients, as life expectancies increase.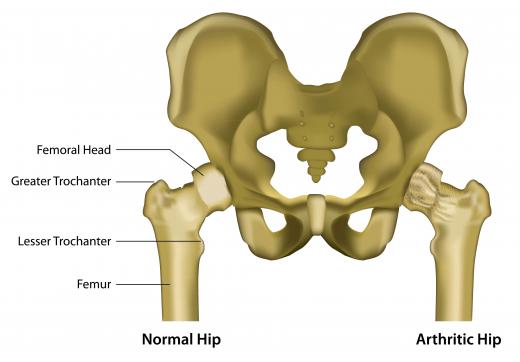 The field of dentistry is increasingly finding use for titanium implants as well. A titanium implant for dental use will typically consist of a screw which resembles the root of a tooth and has either a smooth or roughened surface. The "root" is placed in the jawbone and the process of osseointegration is allowed to take place for several weeks or months. At the appropriate time, a dentist will then attach a crown to the root. Because the root is already integrated, the patient is then immediately able to use the new implant as if it were a natural tooth.
AS FEATURED ON:
AS FEATURED ON:

By: Alexandr Mitiuc

An illustration of a dental implant with a titanium abutment.

By: yanmingzhang

Titanium implants are being increasingly used in the field of dentistry.

By: bilderzwerg

Arthritic hips may require a titanium implant.

By: Saul Leslie Imaging

Titanium spinal implants can correct deformities.

By: Dario Sabljak

Titanium implants may be used to reconstruct bones or joints after a fracture or other injury.

By: gwimages

About one million patients worldwide are treated every year for replacement of arthritic knees and hips.

By: chalabala

Osseointegration is a process in which implanted material -- such as a dental implant -- integrates with living bone.