What is a Vaginal Prolapse?
When one of the pelvic organs falls into the vagina, it is known as a vaginal prolapse. This occurs due to an area of vaginal wall becoming weak and no longer being able to support the pelvic organs. Which organ prolapses, or falls into the vagina, depends on what area of the vaginal wall is weak.
The bladder can fall into the vagina if the front of the vagina wall is weak. The rectum may fall if the weakness is in the back of the vaginal wall. The part of the vagina, which is normally deep into the pelvis, may also fall outside the opening of the vagina. If more than one area of the vaginal wall is weak, there may be more than one organ that prolapses.
One of the main symptoms in most vaginal prolapses is pressure in the vagina. Other symptoms of a vaginal prolapse may vary depending on what organ has fallen. For instance, if the small bowel has prolapsed, a women may have lower back and abdominal pain.
There are several risk factors that increase a woman's chance of having a vaginal prolapse. The biggest risk for developing a vaginal prolapse is having a vaginal delivery. Multiply delivers, especially of large babies, increases the risk. Being obese and having a family history of vaginal prolapse are also risk factors.
Diagnosis is made after a physical exam. Although a woman's primary care doctor can perform the exam, some women may choose to go to a gynecologist who may be more familiar with treating this gynecological condition. Because of the discomfort, most women will need treatment.
Medication is not available to treat the condition. The two main types of treatment are using a pessary or surgery. A pessary is a device that is placed inside of the vagina to support the vaginal wall. The patient will need to be fitted for the device and learn how to remove and insert it. The device can be worn for up to a week at a time and then changed.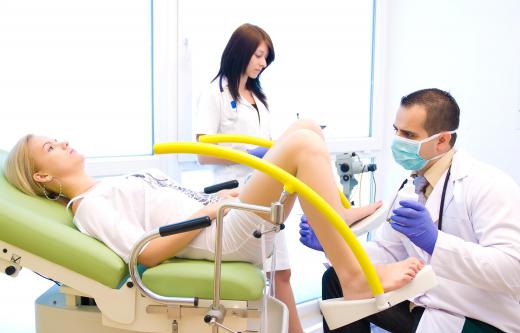 Some women may choose to use a pessary indefinitely, or only use it until surgery is scheduled. If a woman opts for surgery, a repair is made of the portion of the vaginal wall that is weak and causing the prolapse. The surgery is either performed through the vagina or the abdomen. During some surgeries, grafts may be used to provide extra support to the vaginal wall and prevent a prolapse from reoccurring.
AS FEATURED ON:
AS FEATURED ON:

By: Olesia Bilkei

Multiple deliveries may increase a woman's chances of developing a vaginal prolapse.

By: olly

Obesity is a risk factor of developing a vaginal prolapse.

By: Zsolnai Gergely

Gynecologists can diagnose and treat vaginal prolapse.

By: reineg

Vaginal prolapse is when a pelvic organ, such as the bladder, the rectum, or the small bowel, falls into the vagina.