An acanthoma is a neoplasm, an abnormal growth, that arises in skin cells. Acanthomas are relatively rare and usually benign and are evaluated by a dermatologist when they are identified to confirm the diagnosis and collect information about the growth. If the growths become a nuisance, they can be removed in a simple outpatient procedure, although they tend to recur after removal. As with all neoplasms, there is a risk that an acanthoma could become malignant and the growth must be evaluated and watched carefully.
A classic example of an acanthoma is a clear cell acanthoma, a type of growth most commonly found on the legs. A lump of discolored tissue will arise, and may scab over or exude clear fluid. If the scab is removed, the growth tends to bleed lightly before clotting over. The lump is soft and fleshy in texture, and can be painful or irritating if it gets especially large or if it becomes caught on garments, shoes, and other accessories.
These growths are most classically benign. They will stay relatively small and will not spread to other regions of the body from the site where they arise. A simple biopsy can be used to examine some cells from the acanthoma to see if it is benign or malignant and to collect information about its origins. If the growth is benign, a wait-and-see approach may be advised, with the growth being left in situ. If the patient doesn't want the growth left in place, a dermatologist can use a mild local anesthetic to numb the site before removing the growth.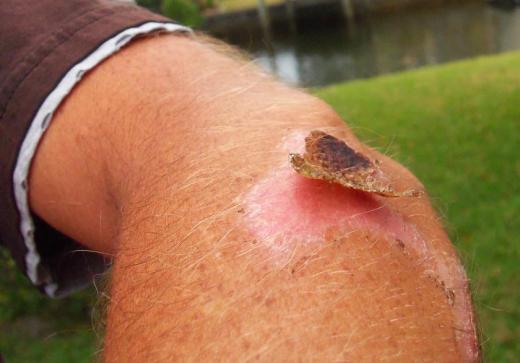 Such growths can be an aesthetic nuisance if they are on a visible area of the body. Some patients also experience irritation as a result of placement when growths rub against clothing. The site of the neoplasm can develop soreness and the growth may also leave exudate on clothing, making a mess. In these situations, removal can make the patient more comfortable.
If the growth becomes malignant, treatments can include removal and medications to kill roaming cancerous cells, along with radiology to damage rogue cells. With malignancies it is important to determine the stage and see how far the neoplasm has spread, as this information can be important for developing an effective and appropriate treatment plan. Patients should remember that cancers are named after their origins, not their location; a neoplasm made up of skin cells will always be an acanthoma, no matter where it ends up.
AS FEATURED ON:
AS FEATURED ON:

By: Chepko Danil

A biopsy may be taken of cells from a acanthoma to see if it is benign or malignant.

By: Daniel Oines

If a scab associated with acanthoma is removed, there is likely to be light bleeding.

By: michaeljung

Acanthomas should be examined by a dermatologist.