What is an Amoxicillin Rash?
An amoxicillin rash is an allergic skin reaction a person may have when he is taking a medication called amoxicillin. Amoxicillin is an antibiotic medication that is often used for treating such conditions as ear infections, bronchitis, pneumonia, and urinary tract infections. Most people who take amoxicillin do so without allergy symptoms or side effects, but a small percentage of patients may develop an amoxicillin rash. In some cases, an amoxicillin rash can be a sign of a life-threatening infection. Interestingly, amoxicillin can cause several different types of rashes.
Sometimes amoxicillin causes a mild rash as a side effect. Usually, this rash isn't a sign of a serious problem for the person taking the medication. It is, however, easy for a person to confuse a minor type of amoxicillin rash with the onset of one that may indicate a serious health issue. For this reason, many health experts recommend that an individual report any sign of an amoxicillin rash to his doctor. A doctor can evaluate the rash and help an individual determine whether or not there is cause for concern.
One type of amoxicillin rash that indicates a more serious health problem is called Stevens-Johnson syndrome. This condition is marked by the development of a red or purple rash and is accompanied by pain. The rash associated with Stevens-Johnson syndrome erupts into blisters, and the top layer of the patient's skin sheds. One way to tell whether a person may have Stevens-Johnson syndrome instead of another type of amoxicillin rash is based on the symptoms that develop before the rash; in many cases, flu-like symptoms precede it. An individual with this condition is usually hospitalized in an intensive care unit for treatment.
Sometimes a person who has a reaction to amoxicillin develops hives. While hives can sometimes develop as a sign of a minor allergic reaction, they may indicate anaphylaxis in some people. Anaphylaxis is a severe allergic reaction that may be accompanies by difficulty breathing, swelling of the face and mouth, and stomach upset in addition to hives. As anaphylaxis is life threatening, a person with these symptoms typically needs emergency medical attention.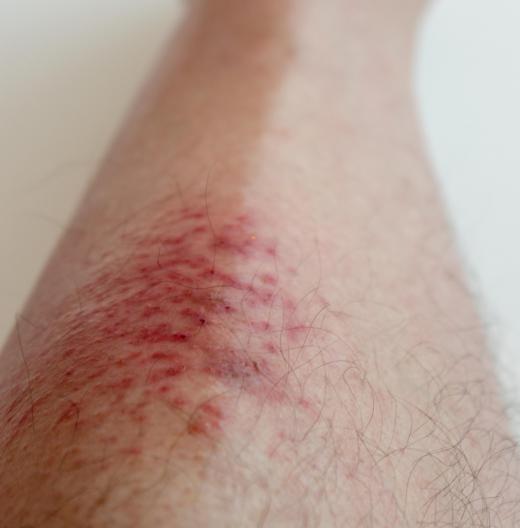 Exfoliative dermatitis is also among the more serious types of amoxicillin rashes that a person may develop. This rash is accompanied by reddening of the skin, intense itchiness, and the scaling and sloughing off of a person's skin. A person with this skin condition generally feels unwell and may have difficulties with the regulation of body temperature, suffer nutritional deficiencies, and have a decrease in the amount of blood that circulates through his body as a result of the sloughing off of his skin. In some cases, this condition requires hospitalization.
AS FEATURED ON:
AS FEATURED ON:

By: defun

Amoxicillin may cause a mild rash as a side effect.

By: Oleksii Nykonchuk

Some people experience an allergic reaction to taking amoxicillin.

By: ArTo

It is important to keep a rash that has developed as a result of antibiotics as clean and as dry as possible.