What is an Ironman Triathlon?
The Ironman Triathlon, which originated in the US state of Hawaii in 1978, is a three-sport competition that combines running, biking, and swimming. Participants in an ironman triathlon swim 2.4 miles (3.86 km), bike 112 miles (180.2 km), and run 26.2 miles (42.2 km)—the distance of a marathon—during one day of the race. There is generally no break between the sports activities, and the swim-bike-run order is consistent for most ironman triathlons.
The initial Hawaii event drew just 15 participants. In subsequent years and decades, hundreds of athletes signed up for the 17-hour competition, which was presided over by the World Triathlon Corporation. Original ironman triathlons were usually completed outdoors in extreme heat, strong winds, and sometimes rain. Races took place in oceans and over rough terrain; modern-day versions of the event follow that outdoor tradition, with rivers and lakes sometimes substituting for oceans, depending on location.
The term "ironman triathlon" was once used to specifically refer to those 140-mile (226 km) events sanctioned specifically by the World Triathlon Corporation. Now, the term often refers to any race which combines the three sports of biking, running, and swimming for a sum total of 140 miles (226 km). Some organizers of less competitive ironman triathlons allow participants to spread the races over several days, with many charitable competitions allowing three to five days of contests.
The main and most respected ironman triathlon continues to be October's Hawaii-based competition. The contest is formally known as the Annual Ironman Triathlon World Championship and it draws 1,500 athletes yearly. While 17 hours are allotted for the contest, the top contenders usually complete their races within 9 hours.
Those participating in an ironman triathlon begin training at least four to six months in advance. Typically, three to eight hours a day are devoted to training in all three sports during the week, with one or two days of rest each week. This intense schedule develops endurance. It is common for athletes to run, bike and swim three to four times the race amount in one week. Many join clubs or train with partners because the camaraderie can foster greater dedication and sustained performance.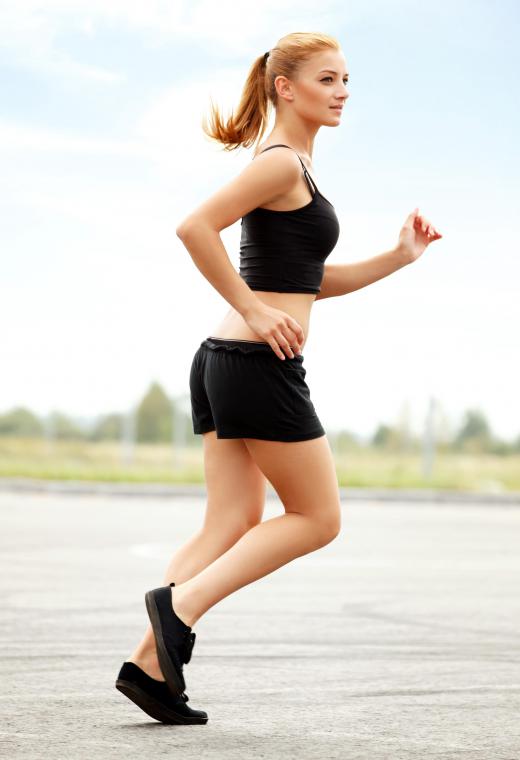 Much energy, perseverance, and psychological strength is needed to complete the ironman triathlon. At least 10 percent of triathletes give up before completion, according to world championship data. Even finishers often suffer injuries. Although the ironman competition draws mostly young competitors, some entrants are in their 60s, 70s and, occasionally, 80s. Men and women are allowed to compete.
Diet is very important for triathletes. Many sustain their energy by devoting 40 percent of their diet to carbohydrates. Protein typically makes up 30 percent of nutrition for competitors. Fat intake can be as high as 30 percent.
AS FEATURED ON:
AS FEATURED ON:

By: Maridav

An Ironman triathlon involves running 26.2 miles.

By: Lsantilli

Swimming is part of an ironman triathlon.

By: puhhha

Training for an ironman triathlon includes an intense schedule that helps to develop endurance.

By: HconQ

Triathletes may begin training for an event months in advance.

By: Andriy Petrenko

Athletes participating in a triathlon need to remember to stay hydrated during the event.