What Is Artificial Semen?
There are two basic types of artificial semen, as of summer 2011. The first type is used for decorative or demonstrative purposes. Typically, people use this kind of fake semen during some sort of demonstration that, were it a real event, would involve real seminal fluid. The second type is more of a scientific step forward. If successful beyond initial testing, this type of artificial semen might provide human health benefits.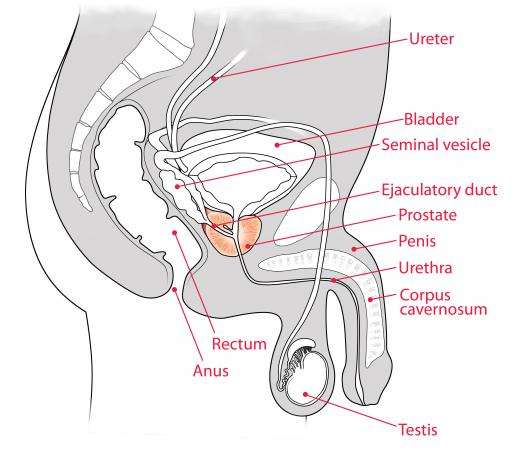 For years, artificial semen has been any kind of substance, crudely crafted or professionally manufactured, designed to mimic the appearance of real seminal fluid. Sometimes, this kind of fake semen is used in sex education classes. Teachers can pair the fake seminal fluid with condom demonstrators that have an ejaculation function.
Of course, this demonstration does not have to take place in a classroom setting. It can take place between two new sex partners, a parent and a child, or in any couple or group setting involving someone who is unfamiliar with and needs to learn how condoms work. Facilitators of sexual health seminars, retreats, and other group workshops might use condom demonstrators with ejaculation functions that emit artificial semen.
Similarly, sex industry professionals can use artificial semen when real seminal fluid is not possible or practical. Such instances might be during still photo shoots or even filming sessions. Depending on the company's budget, this might be purchased from a manufacturer or made from the industry's own recipe. Typically, though, the sex industry uses a chemical compound called methyl cellulose for its artificial semen needs. Methyl cellulose is nontoxic and non-allergenic and these, along with other characteristics such as lubricating properties, could be why it is used in other sex-related products like personal lubricants.
The term "artificial semen" can also refer to real sperm created in an artificial way. Technically, this is an incorrect use of the term as semen and sperm are not the same. Semen is the fluid that holds sperm. Scientists who specialize in fertility issues have created germ cells that produce sperm. Experiments have shown that once these germ cells are inserted into the testicles of male mice, the mice can produce sperm that looks healthy and normal. Likewise, when the artificial sperm is inserted into the eggs of female mice, the female mice are able to conceive and deliver healthy pups, or baby mice. If and when such a procedure is fully regulated and made available to humans, it could act as a groundbreaking fertility treatment to help men and women who weren't otherwise able to conceive children.


By: Alexandr Mitiuc

A sperm cell.

By: kocakayaali

Semen is produced in the testes, which are contained in the scrotum.

By: WavebreakMediaMicro

Artificial semen may one day act as a fertility treatment to help couples trying to conceive.