Bleeding out, or exsanguination, is a condition characterized by a fatal loss of blood. In humans, the process is usually called bleeding to death. While the condition can occur in either humans or animals, it is rare for a human being to die as a result of exsanguination. It is used as a method for slaughtering animals, however.
Before beginning the process of bleeding out an animal, some slaughterhouses incapacitate the animal so that it will not feel any pain during the procedure. This is often done using a device called a captive bolt, a heavy rod that is usually made from stainless steel or another type of non-rusting alloy. The captive bolt is forcefully struck against the animal's forehead, rendering it unconscious. Electrical and chemical methods may also be used to debilitate the animal.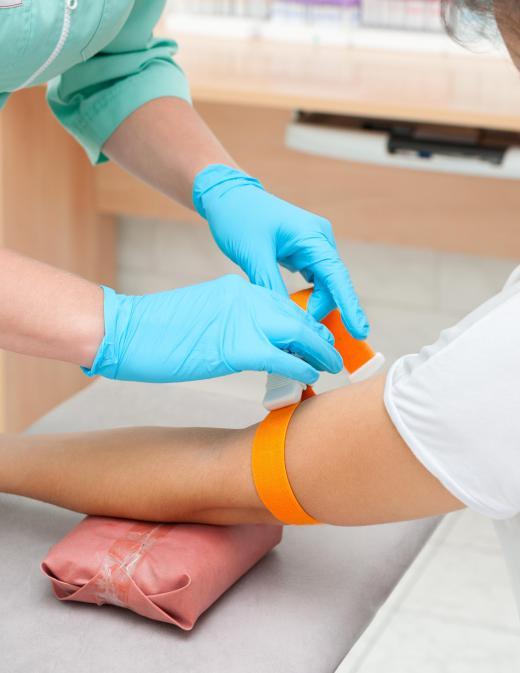 Once the animal has been rendered unconscious, the slaughterer customarily inserts a knife through the animal's skin, just below its neck bones and behind its jaw. Next, the slaughterer cuts the animal's jugular vein, carotid artery, and trachea. These maneuvers ordinarily cause the animal to start bleeding, and it usually dies within a few minutes.
Some religions require animals to be bled out when they are slaughtered for eating. Judaic kosher laws require slaughter by exsanguination, for example, and Islamic halal laws also mandate this method of slaughter through a ritual known as Zibah. There is some debate in these communities whether or not an animal may be rendered unconscious prior to the exsanguination procedure being performed. Usually, the slaughter must be performed by a butcher of the same faith.
In humans, bleeding out generally occurs as the result of a fatal injury or internal bleeding. It may, for example, occur if a person attempts to commit suicide by cutting an artery, such as the carotid, radial, ulnar, brachial, or femoral arteries. If a person experiences a large amount of blood loss as a result of a fatal injury and the bleeding is not blocked, he or she may bleed to death. This occurs most often on a war battlefield or if a limb gets severed.
Blood loss from internal bleeding can also lead to exsanguination in humans. A person who develops a peptic ulcer may suffer from internal bleeding, for example, and it can also occur as a result of forceful blows to the spleen, liver, lungs, or kidneys. Alcoholics and people with liver disease can be more susceptible to this problem.
AS FEATURED ON:
AS FEATURED ON:

By: withGod

Tourniquets can be applied around extremities to prevent fatal blood loss.

By: smuki

A cut behind the ear is usually used to bleed out stock animals before slaughter.

By: Orhan Çam

Islamic law requires that food animals be slaughtered by bleeding out.

By: yellowj

Chronic drinking can lead to peptic ulcers that cause internal bleeding.

By: Max Tactic

A patient suffering from a severe loss of blood may require a blood transfusion.