What is Boric Acid Ointment?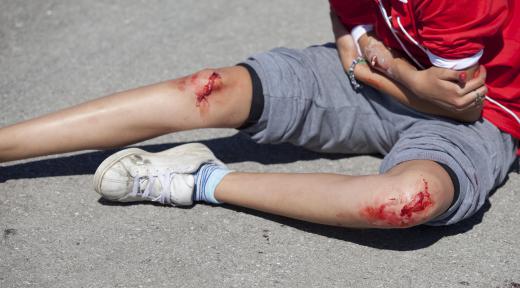 Boric acid ointment is a product designed to treat mild skin irritation. A number of nations have restricted the sale of boric acid for medical purposes and it should be used with caution. Although this product has historically been used to treat diaper rash, this usage is no longer recommended, and boric acid is actually considered quite dangerous for infants. Some drugstores carry this product or can compound it by request. Numerous alternatives are available to treat minor cuts, scrapes, and burns.
Boric acid has antiseptic qualities. A typical boric acid ointment includes a low concentration, usually around four percent, suspended in a cream designed to be applied to the skin. The area being treated should be washed and patted dry before a thin layer of ointment is applied with an applicator and then allowed to dry. The skin should not be covered once the ointment is applied unless a physician has specifically recommended bandaging.
This product has historically been used in the treatment of minor skin irritation and inflammation, including acne, scratches, and small burns. Concerns about boric acid ointment mostly surround its toxicity. Boric acid is poisonous and can be absorbed through the skin, especially when it is applied to an open wound. While a small dose is not usually dangerous, it can build up in the body and make people very sick. Some people are also allergic to boric acid and will experience skin reactions like swelling and redness when ointments containing boric acid are applied.
Using this ointment can repel bacterial growth and reduce the risk of infection at the site of a minor injury. Simply keeping small wounds clean can often prevent complications like infection, with no need to apply a topical antiseptic. For slightly larger wounds, an array of antiseptic products are available and many of these products are safer than boric acid ointment.
While boric acid was widely used until the 1980s, a number of studies indicated it could be dangerous for young children and could potentially result in birth defects if used by pregnant women. Some nations have toughened labeling laws for boric acid ointment and other products, requiring companies to disclose potential risks. Generally, this product should not be used by pregnant or breastfeeding women, or on young children, particularly infants. If someone uses it and experiences an adverse reaction, the ointment should be washed off and not used again.


By: wellphoto

Boric acid ointment may help reduce the risk of infection at the site of an injury.

By: Hunor Kristo

Breastfeeding mothers should not use boric acid ointment.

By: aseph

Boric acid ointment is no longer recommended for treating diaper rash.

By: FirstBlood

Boric acid ointment is used to treat mild skin irritation.

By: Radek Sturgolewski

Boric acid ointment may cause birth defects if used during pregnancy.