What Is Collagen Protein?
Collagen protein is one of a family of proteins found in the tissues of mammals. These proteins are particularly abundant in the muscle and connective tissues as well as the skin, cartilage, and blood vessels. Collagen protein is a critical component of healthy tissue structures in most areas of the body, and deficiencies may lead to serious physical ailments and premature aging. Collagen deficiencies are most commonly caused by genetic defects and nutritional imbalances and may be alleviated by using a collagen protein supplement. Supplemental preparations containing the protein are also claimed to be beneficial in weight loss regimens.
This group of proteins represents a significant percentage of the total protein content of the human body, with average concentrations running between 25 and 35%. Collagen is a essential tissue building block and is found in large concentrations in fibrous connective tissue such as skin, tendons, and ligaments. It is also found in muscle connective tissues and in the bones, blood vessels, and cartilage. Deficiencies in collagen can lead to serious health problems and a range of less threatening conditions such as premature aging of the skin, dull hair, and weak or brittle nails.
Collagen proteins are produced by the body from amino acids in the diet. When this process is negatively affected by genetic defects or the lack of adequate dietary intake of natural amino acids, collagen deficiencies can arise. The natural aging process in all humans also sees a gradual reduction in collagen production and the breakdown of existing collagen components of connective tissue. This process results in a loss of elasticity in the skin resulting in sagging and wrinkles. Depletion of collagen also leads to cellulite, dry skin, and loss of condition in the hair and nails. For these reasons, most topical anti-aging products have a strong collagen component which is formulated for easy absorption into the skin.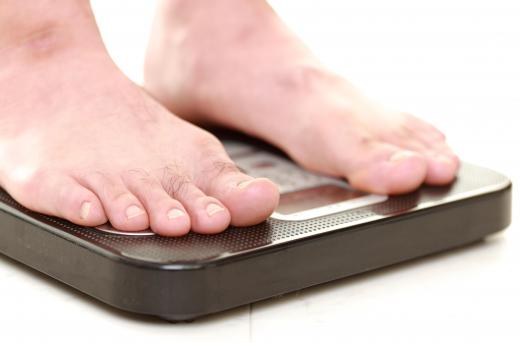 Fortunately there are a wide range of collagen protein supplements available should a deficiency be identified. Many of these supplements combine collagen protein compounds with other protein sources such as predigested whey. As with most essential elements though, natural sources are always best, and it is preferable to boost collagen production through increased amino acid intake in the diet. There have also been claims, some as far back as the 1970s, that collagen protein supplements may aid in weight loss, although these are largely without any scientific basis and should be considered with caution.
AS FEATURED ON:
AS FEATURED ON:

By: Alila

A diagram of younger skin and older skin showing how the decrease in collagen can lead to wrinkles.

By: jedi-master

Collagen protein may aid in weight loss.

By: Syda Productions

Collagen protein supplements can be used to help reduce the effects of premature aging.

By: luiscarceller

Anti-aging creams that contain collagen are typically ineffective when it comes to treating wrinkled skin.

By: Gianfranco Bella

The natural aging process involves a reduction in collagen production.

By: Lovrencg

When taking any weight loss aid, it's crucial to also adhere to a nutritious, well-balanced diet.

By: monticellllo

A wide range of collagen protein supplements are available for those with a collagen deficiency.

By: Laurin Rinder

While a collagen deficiency may cause premature aging of the skin, too much collagen may cause the skin to harden.