What is Diffusion Tensor Imaging?
Diffusion tensor imaging (DTI) is a type of magnetic resonance imaging (MRI) which uses the rate at which water diffuses between cells to gather information about the internal structures of the body. The diffusion rate varies around barriers between different structures in the body, and this trait can be used to create a complex and detailed map of internal structures with the assistance of DTI. This technology is commonly used to examine the brain, although it can also be employed in different parts of the body.
The science behind diffusion tensor imaging is very complex, but put in the simplest of terms, this type of medical imaging involves agitating molecules with electromagnetic radiation and recording the release of that energy. This data is weighted with known information about the rates of diffusion between different types of tissue to create a map of structures like nerves, muscles, and so forth. Essentially, a diffusion tensor image creates a wiring map of the body, allowing for the clear visualization of various pathways.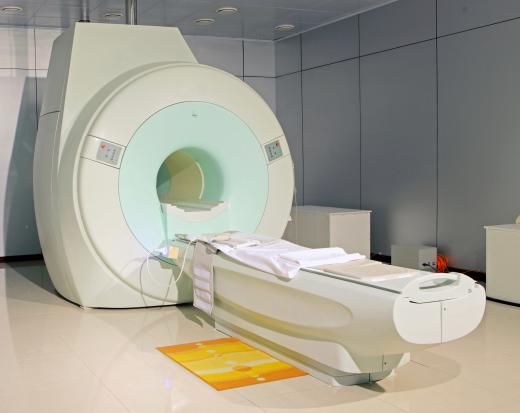 Researchers use diffusion tensor imaging to look at the brains of various subjects, taking advantage of the fact that a diffusion tensor image reveals more information about the wiring of the brain than other types of scans. By looking at the network of connections at the core of the brain, a research can identify areas of difference between subjects, potentially using this data to explain psychiatric problems, degenerative diseases, and other medical topics of interest.
This medical imaging technique is also used in diagnosis, especially when stroke or multiple sclerosis are suspected. Diffusion tensor imaging provides much more data about the condition of the brain than a conventional MRI, allowing a doctor to clearly see areas of concern. A stroke, for example, may fail to damage gray matter in the brain enough for the damage to be seen on an MRI, but the change in the brain's white matter can be seen on a DTI.
When a diffusion tensor imaging study is ordered, the patient needs to go to a facility which has an MRI machine and the software to create a diffusion tensor image. The patient will be asked to remove all jewelry and metal, commonly changing into a hospital gown to reduce the risk of forgetting about a metal rivet, button, or snap, and then he or she will lie prone in the MRI machine while a series of images are acquired. Holding still during this process is critical, to ensure clear, crisp images. The MRI can be quite noisy, so some patients wear ear plugs or headphones to feel more comfortable during the process.
AS FEATURED ON:
AS FEATURED ON:

By: Mikhail Kondrashov

Diffusion Tensor Imaging is a type of MRI.

By: michaeljung

Diffusion tensor imaging may be used to diagnose conditions such as a stroke or multiple sclerosis.