Filaggrin is a type of protein found in the skin. Mutation of the filaggrin gene can interfere with the skin's ability to act as a barrier. This allows water to be lost from the skin, and also means bacteria and other substances can enter, possibly leading to allergies, irritation and infection.
Having a filaggrin gene mutation has been found to be associated with atopic eczema, where patches of dry skin become itchy and inflamed, and some allergic conditions such as rhinitis, where the nasal passages are irritated. The same mutation is also present in cases of ichthyosis vulgaris, where the skin becomes dry and scaly. It is thought that allergic reactions to nickel may be due to a filaggrin gene defect, because this might lead to nickel passing into the skin more easily. Currently there is no test generally available for people to see whether they have the gene mutation, but this could change in the future.
In what is known as the granular layer of the skin, there are what are called keratohyalin granules inside the cells. These granules contain profilaggrin molecules, which are converted into filaggrin. This is then used to help create the structure of the outer layers of skin. It does this by gathering together strands of a protein known as keratin, helping to form the skeletons of skin cells into tough compact shapes. Filaggrin also helps to hold water inside skin cells, keeping the skin moisturized.
Around half of all those with the more severe forms of atopic eczema are thought to have a filaggrin deficiency, and in some cases those with the disease ichthyosis vulgaris may not have any of the protein at all. People who have atopic eczema together with the deficiency are thought to be at higher risk of developing asthma as well. Eczema may be treated by using emollients instead of soap and by regularly applying moisturizers to the skin. Sometimes steroid ointments are used if the disease flares up, and these work by decreasing inflammation. Ichthyosis is generally treated by keeping the skin hydrated using moisturizers.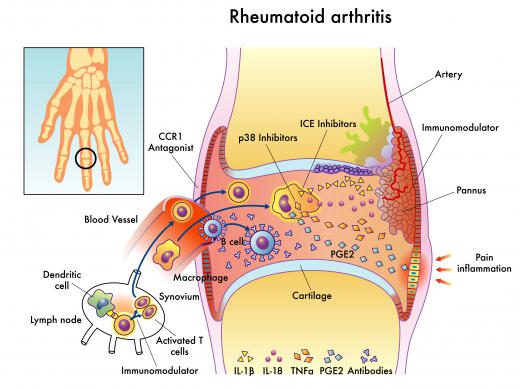 In the disease known as rheumatoid arthritis, the body's immune system attacks the joints, causing damage and inflammation. People who have the disease have been found to have antibodies in their blood which target filaggrin and prevent it from functioning. Blood levels of these antibodies can be measured and used to help diagnose rheumatoid arthritis in its early stages, when it can be more difficult to distinguish it from other kinds of arthritis.
AS FEATURED ON:
AS FEATURED ON:

By: Jingling Water

Having a filaggrin gene mutation is often associated with the skin condition eczema.

By: Piotr Marcinski

Mutation of the filaggrin gene may lead to allergies.

By: rob3000

People with rheumatoid arthritis have antibodies in their blood that prevent filaggrin from functioning.

By: Antonioguillem

People who have atopic eczema may be more susceptible to developing asthma.

By: bsites

A filaggrin gene mutation has been linked to a higher risk of allergic rhinitis.

By: photoillustrator.eu

The most common cause of rhinitis is the common cold.