The ability of a joint to move through its full range of motion is defined as flexibility. Because each joint has a different potential range of motion, it is joint specific. Sometimes, being flexible in a particular area of the body requires the interaction of a series of joints. The range of motion in the back that yoga practitioners strive to achieve, for example, requires the development of flexibility along the entire spine.
The types of poses that many yoga practitioners hold help increase their static flexibility. This describes the range of motion that can be achieved when a person is not in motion. Athletes may use static stretches after a work out to increase their overall ability to flex, but they also need to pay attention to their range of movement while in motion as well.
Dynamic flexibility refers to the range of motion that can be attained during movement, such as a tennis player reaching to hit the ball with her racket or a martial artist reaching to land a powerful kick on his opponent. The amount of time it takes for a muscle to lengthen limits this range. For some people, their muscles naturally activate and lengthen very quickly, but others have muscles that respond comparatively slowly.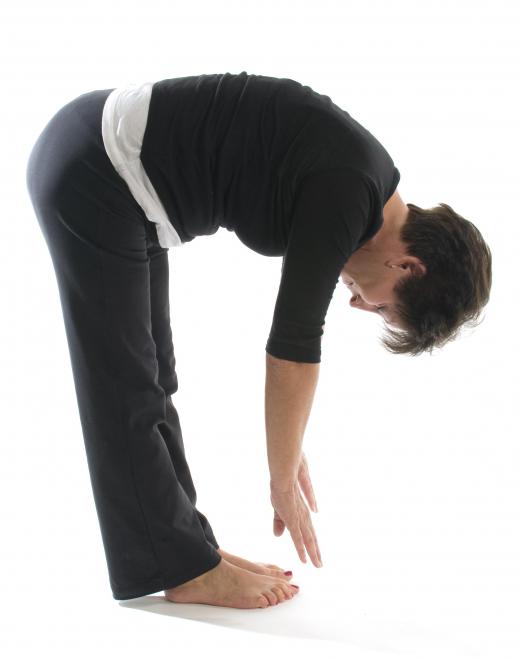 Attaining a full range of motion is important because it helps reduce stress on muscles as they perform various tasks, thereby reducing injury rates. Additionally, it often helps improve posture and can reduce associated back pain. As people age, their joints tend to become stiffer. Maintaining a full range of motion is crucial to being able to achieve simple tasks as one gets older, such as bending over to tie shoelaces or reaching around to button shirts. For athletes, increasing the ability to flex particular joints most often used in their sports can improve their ability to perform their sports' required skills.
Flexibility exercises differ with a person's particular needs. No matter the type of stretching to be done, it is important to warm up the muscles first. Warm up exercises vary by sport, but walking or gently pumping the arms are usually effective. To safely lengthen muscle tissue and achieve the full range of motion available in the joint, the muscle should not be jerked into position abruptly but should be smoothly moved through the arc of the stretch.
Most static stretches can be performed more than once. In fact, it can be helpful to increase the joint's range of motion to warm it up in the first attempt for short period of time and then go a little farther in the second attempt and hold the stretch longer. While it's normal for the person to feel mild discomfort as the muscle reaches its limit of mobility, there shouldn't be any pain. Pain indicates that the muscle has gone too far in the stretch, or the stretch has been repeated too often.
AS FEATURED ON:
AS FEATURED ON:

By: WONG SZE FEI

Yoga may improve flexibility.

By: robert lerich

Stretching helps improve flexibility.

By: Galina Barskaya

An ice skater must be very flexible to perform jumps and spins.

By: nyul

While stretching exercises will often increase flexibility in a short time, dramatic improvements in flexibility can take more than a year to accomplish.

By: nebari

Flexibility is the ability of a joint to move through its full range of motion.