What Is Four-Handed Dentistry?
Four-handed dentistry refers to a dental technique whereby a dental assistant or dental hygienist works alongside a dentist at the same time. This method was instituted to quicken the process and reduce fatigue both for the patient and the dental professionals. Shortening the time of any given dental procedure can very often raise the quality of the work. Four-handed dentistry means that both the dentist and assistant may have one, or both hands, near or within the mouth of a patient at the same moment. Instruments need to be passed swiftly to the dentist, and then back to the dental assistant during oral surgery, and four-handed dentistry accomplishes this more effectively.
Many types of dentistry employ both the dentist and assistant, or hygienist working as a team. These can include root canals, crowns, bridges and gum surgery. Dental assistants need to completely understand the procedure being performed so that they are able to hand off and receive instruments at the appropriate time and position. It is also crucial that they pass the correct instruments, especially during oral surgery. Often, the dentist will allow the assistant to take over for certain parts of the procedure.
True four-handed dentistry is most effective when the dentist does not have to reach or stretch for instruments in any way. Very often dentists suffer from muscular or skeletal problems because the dental assistant has not correctly arranged the instruments and dental theater in general. The assistant will most often apply the oral evacuator, which is a fluid and debris suction device. The well-ordered dental room is crucial to the efficacy of four-handed dentistry. This technique is not designed to hurry through dental procedures; rather, it serves to speed the process by clear and concise organization.
There are a number of strategies that are employed to make this dental technique effective. The dentist and assistant need to develop a series of non-verbal signals to allow the procedures to run smoothly. Instruments are usually pared down to the absolute minimum in four-handed dentistry, allowing one instrument to be used for multiple purposes. Surgical trays are placed in pre-set positions for maximum access for the both assistant and dentist.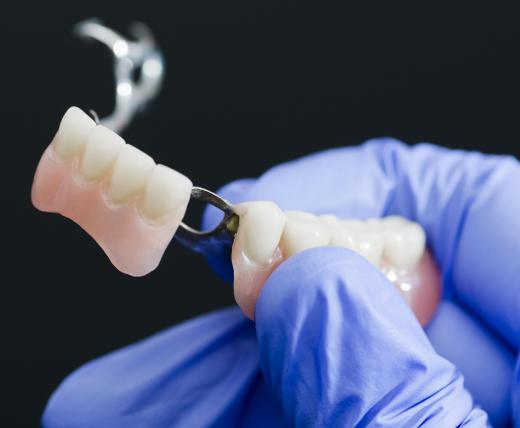 Four-handed dentistry was developed in the 1960s and gained worldwide popularity during the 1970s. It has come a long way since then and is now a standard practice in most dental offices. Dentists and their assistants continue to streamline and advance the technique as they work together in tandem, and further maximize the practice of four-handed dentistry.
AS FEATURED ON:
AS FEATURED ON:

By: Vladimir Melnik

Four handed dentistry is commonly used by both oral surgeons and dentists today.

By: Igor Mojzes

Four-handed dentistry may be used during a root canal procedure.

By: milosljubicic

Four-handed dentistry is often used to implant or fit bridges.

By: Minerva Studio

Dentists are required to partake in continuing education programs in order to maintain license to practice.

By: Kadmy

During four-handed dentistry, a dental assistant works alongside a dentist at the same time.