What is Garcinia Cambogia Extract?
Garcinia cambogia extract comes from the fruit of the Garcinia cambogia tree, which grows across Southeast Asia. Other common names for the tree include Brindall berry, Malabar tamarind, Uppagi, and Gamboge. The fruit contains hydroxycitric acid, which makes up the bulk of the extract. It has a wide range of purported uses, from medical, to cosmetic, to a condiment. Some believe it is an appetite suppressant, lipid inhibitor, fat burner, and that it can treat a wide variety of medical illnesses, though its medicinal effectiveness is controversial.
One of the main uses of this extract is as a dietary aid. People claim that it helps reduce a person's appetite and can even burn fat. Scientific research seems to contradict those claims, however. One of the main studies that was conducted in 1998 showed that 42 people who consumed 3,000 mg of Garcinia cambogia extract every day did not lose any more weight than the people who consumed the placebo did. Many people still consume the extract in the hopes of dropping a few additional pounds.
People who study traditional Indian medicine have also touted the effectiveness of Garcinia cambogia in treating a wide range of medical problems. The list of illnesses that may be treated with the extract is seemingly endless, and includes tumors, parasites, diarrhea, constipation, fever, hemorrhoids, high cholesterol and high triglycerides, to name a few. Some claim it even increases the mucus production in the stomach to prevent gastric ulcers.
Beyond its use as a medical and dietary aid, it is also used as an ingredient in some cosmetics. In addition, the people of Southeast Asia use it as a condiment. For example, tamarind, one of the plant's other names, is familiar to many people who enjoy curry and other Southeast Asian menu items. Fish can also be preserved using the rinds of the fruit.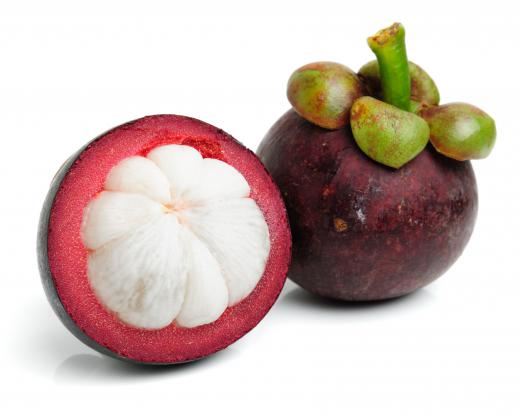 As with any herbal supplement, individuals should consult a medicalprofessional or herbalist before taking any new product. Some supplements can be harmful to certain groups of people, such as pregnant women, diabetics, and those with heart conditions. A number of people who have taken too much of ths extract have reported adverse symptoms, such as diarrhea, abdominal pain, vomiting, and testicular atrophy. Women who are pregnant or who are breastfeeding are generally advised not to consume it.
AS FEATURED ON:
AS FEATURED ON:

By: Melpomene

Garcinia cambogia extract is typically taken as a weight loss supplement.

Unripe fruit growing on a garcinia cambogia tree.

Mangosteen is the fruit of the Garcinia Cambogia tree.

Mangosteens.

By: sriharun

Garcinia cambogia extract comes from the fruit of the Garcinia cambogia tree.

By: p6m5

Some people believe garcinia cambogia can effectively treat gastric ulcers.