What is General Internal Medicine?
General internal medicine is a practice of medicine that involves treating adults in a primary care situation. In other words, it is a field of medicine that represents a first line of health care for an adult. Other primary care forms include pediatrics and family practice, which include the treatment of children or patients of all ages respectively. A person who practices general internal medicine is a physician who will often be the patient's regular doctor for many common medical issues.
Some may have the misconception that a doctor who practices general internal medicine may only be practiced in dealing with a specific organ system inside the body. Rather, doctors in this field of general medicine are versed at identifying and treating many common ailments, not all of which relate directly to internal organ systems. If the doctor feels he or she cannot treat the condition, then a referral to a specialist may be necessary.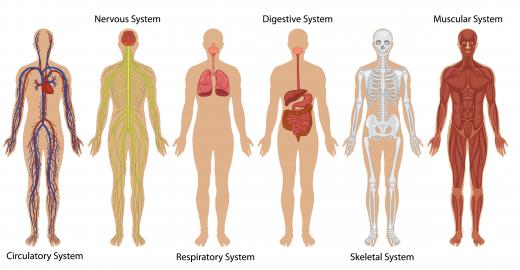 Doctors in general internal medicine will have limitations on what types of ailments they can treat, as is common with all general practice physicians. Part of this limitation is due to the specific ailments the doctor is comfortable in treating. Another part is due to malpractice insurance. The insurance carrier may not cover a doctor if he or she is found to be involved in malpractice for treating something that is not within a general practitioner's responsibility. Therefore, even if the doctor feels capable of treating the problem, he or she will probably still make the referral to a specialist.
As individuals age, general internal medicine becomes more important. Doctors in this field will offer advice on the aging process and help individuals cope with the problems associated with growing older, such as arthritis and high blood pressure. The doctor will also likely be responsible for conducting annual checkups for patients. This preventative medicine approach is a key to general internal medicine and could help save a patient's life if a potentially serious condition is caught early enough.
Most insurance companies see the value in general internal medicine and will have no problem approving claims from a doctor in the field. Even so, those needing an internal medicine practitioner should check with their insurance company. The insurance company will provide a list of participating physicians in the area. Due to the overall aging of the population, more patients are interested in seeing internal medicine doctors, so finding a doctor accepting new patients could be a challenge in some areas.
AS FEATURED ON:
AS FEATURED ON:

By: Matthew Cole

Internal medicine specialists treat diseases and conditions of the body's organ systems.

By: Edyta Pawlowska

A doctor who practices general internal medicine is usually a person's primary care physician.