What is Gonorrhea of the Mouth?
Gonorrhea of the mouth is a bacterial infection that can cause tonsil inflammation, a sore throat, and a fever. It is most commonly transmitted through oral sex, although infected individuals also can transmit the disease through kissing. Left untreated, gonorrhea can lead to serious medical problems, so it needs to be diagnosed and treated as early as possible.
This condition is caused by the bacteria Neisseria gonorrhoeae, which can also infect the genitals, the rectum, and the eyes. In women, the bacteria could find its way to the cervix, potentially infecting a future child. The disease is transmitted through direct contact, so it's most often spread to the mouth through oral sex.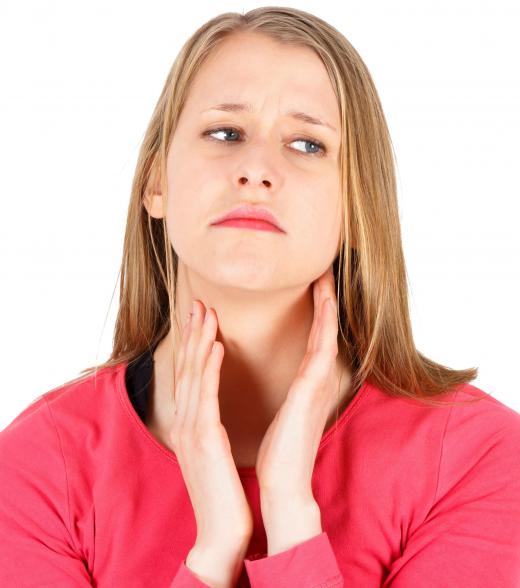 An incubation period of one to four weeks is typical for gonorrhea. During this time, it is likely that an infected individual will show no signs of the infection. By the time the symptoms manifest, the disease becomes highly contagious, making early detection and treatment absolutely necessary.
Gonorrhea of the mouth has several symptoms, including swelling of the lymph nodes in the neck, painful swallowing, a sore throat, vomiting, and a fever. Bacteria transmitted orally also has a higher chance of infecting the eyes, leading to pain and increased sensitivity to light. Depending on the patient's level of sexual activity, the infection might spread to other areas of the body and cause other symptoms.
Other affected areas include the genitals, the rectum and, in women, the cervix. An individual with an infection in the mouth might spread it to these areas through oral sex. Signs of gonorrhea in these areas include pain during urination, rectal bleeding, burning sensations in the genitals, and abdominal pain. If left untreated, the disease might lead to infertility.
Gonorrhea usually is accompanied by a thick, creamy, greenish pus-like discharge from the infected areas. This discharge is often a cause of great discomfort, because the viscous substance passes rather painfully through the urethra and other ducts.
The infection is treated with antibiotics. Medications such as amoxicillin and ceftriaxone can be administered either orally or via injection, and they are often very effective in eliminating the bacteria from a person's the system. Throughout the treatment, it is important for the patient abstain from any form of sexual intercourse. In the case of gonorrhea of the mouth, it also is best for the patient to avoid kissing, so as not spread the infection this way.
AS FEATURED ON:
AS FEATURED ON:

By: Barabas Attila

Symptoms of gonorrhea of the mouth may include swollen lymph glands in the neck.

By: Monika Wisniewska

Symptoms of gonorrhea of the mouth may include fever.

By: Melpomene

Amoxicillin is an antibiotic used to treat gonorrhea of the mouth.

By: Antonioguillem

Kissing can spread gonorrhea of the mouth from one person to another.

By: Imagery Majestic

Gonorrhea can be spread through oral sex.

By: jedi-master

Painful swallowing and a sore throat can both be symptoms of gonorrhea of the mouth.