What is Gustatory Sweating?
Gustatory sweating is a condition resulting from trauma or surgical removal of the parotid gland. The parotid gland is the largest saliva-producing structure in the mouth. Saliva is essential in the digestive process because it facilitates easier chewing and swallowing. Individuals suffering from gustatory sweating often find themselves sweating in certain areas of the face with thoughts of ingesting mouth-watering foods. Normally, gustatory sweating occurs after ingestion of hot and spicy foods.
A person who has undergone parotidectomy is generally at high risk for developing Frey syndrome. Parotidectomy is the surgical removal of the parotid gland due to the presence of a malignant tumor. In Frey syndrome, sweating occurs on one side of the person's face and head. Aside from Frey syndrome, gustatory sweating is also seen as a rare complication in individuals with diabetes mellitus. Their sweating, however, includes both sides of the face.
The nerves that surround the parotid gland monitor and control the amount and rate of saliva production. During parotidectomy, these nerves are usually cut off. The problem occurs, however, when these nerves grow back and begin to attach themselves to the sweat glands scattered around the different regions of the face. When a person returns to eating mouth-watering foods, the stimulus that is usually directed for the nerves to start producing saliva, will begin to tell the sweat glands to produce more sweat. This explains how tasting or just the thought and sight of certain foods can induce sweating in a person with Frey syndrome.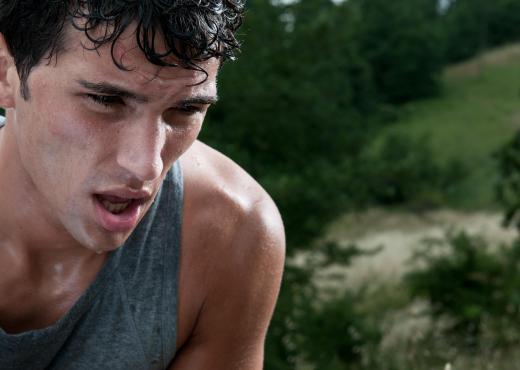 Signs and symptoms associated with gustatory sweating could become bothersome, especially when the sweating becomes so profuse that sweat starts to literally soak one's face. Excessive amounts of sweat may form on the patient's forehead, around the area of the lips, or in the chest area when a stimulus is presented. For patients who had undergone parotidectomy and have sustained damage to the auriculotemporal nerve, the nerve that enables the side of the head to feel, facial flushing may also be evident. The main cause for concern in patients who have gustatory sweating is the cosmetic consequences of their problem, especially when they are at work, or when eating out in public places.
Treatment and management of gustatory sweating includes taking medications, applying creams, and undergoing counseling. Another option is to have another surgical operation. Some patients find that using anti-perspirants on their skin can also help.
AS FEATURED ON:
AS FEATURED ON:

By: Anita Potter

A diagram of the human skin, including sweat glands.

By: Rido

Individuals suffering from gustatory hyperhidrosis experience excessive sweating from the scalp, face, and neck.

By: camrocker

An individual suffering from gustatory sweating may find themselves sweating as a result of thinking about mouth-watering foods.