What is Keratinized Epithelium?
Keratinized epithelium refers to an outer layer of skin cells that has become hardened and died. This layer protects the tissues that lie underneath, and it prevents certain substances from passing into or out of the tissues below. Keratinized epithelium is found in animal cells, such as in mammalian skin and organ-lining cells, including human cells.
Epithelial tissues are those that encase the bodies of animals, both internally and externally. Examples of epithelial tissues include the cells that make up the external layer of the human skin and the stomach lining. A defining feature of this type of tissue is that one surface of the tissue's cells is always exposed, whether the exposure is inside or outside of the animal. This exposed side is called the apical layer surface.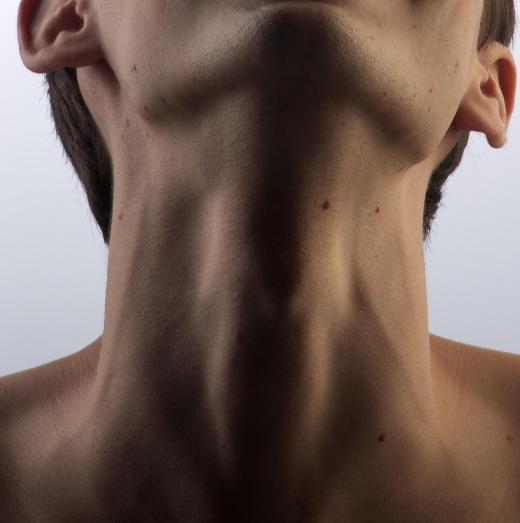 Epithelial tissue is categorized by its shape and number of layers. The shape might be squamous, cuboidal or columnar. Squamous cells are thin, flattened cells, whereas cuboidal cells are cube-shaped, and columnar cells are longer than they are wide. The cells are also categorized by their number of layers; simple epithelial cells have one layer, and stratified cells consist of multilayered epithelium. In the case of pseudostratified epithelium, the cells appear to be multilayered but are only one layer deep.
Regardless of shape and number of layers, epithelial cells share certain characteristics and functions. Typically, nutrients diffuse to these cells from subepithelial layers, so the tissues themselves do not have blood vessels. The epithelial tissue cells divide rapidly, which speeds healing from injury. The tissue cells are packed closely. The epithelial tissue functions in secretion, excretion, absorption and protection.
The stratified squamous epithelium, also known as epidermis, makes up the outer layer of skin, and it serves an important protective function. As these cells age, they create a layer of keratinized epithelium. During keratinization, a protein in the epidermis known as keratin amasses, and the cells harden and die, which creates a tough, dry shield that impedes substances from entering or leaving the tissue under this layer. Not all stratified squamous epithelium keratinizes. For example, the tissue that lines the esophagus is a type of non-keratinized epithelium.
AS FEATURED ON:
AS FEATURED ON:

By: ricardoferrando

Tissue that lines the esophagus is a type of non-keratinized epithelium.

By: Convit

Keratinized epithelium may cause hardening of the cells of the stomach lining.

By: Deyan Georgiev

Keratinized epithelium is found in human skin.

By: maya2008

The tissue that lines the esophagus is a type of non-keratinized epithelium.