What Is Ketoconazole Cream?
Commonly used to treat topical fungal infections, ketoconazole cream belongs to the family of antifungal medications called imidazoles. It may also be used to prevent fungus from infecting the skin as a precautionary measure. Like other topical antifungals, this drug works by preventing the proper formation of the cell membrane that surrounds fungal organisms.
Many types of fungal and yeast infections can be treated through the use of ketoconazole cream. Some of the more common conditions it treats include athlete's foot, ringworm of the groin, which is responsible for so-called "jock itch", and yeast infections affecting the skin. Applied to the scalp, it is occasionally used to treat dermatitis that causes scaly skin, although special shampoos are used more often for this purpose.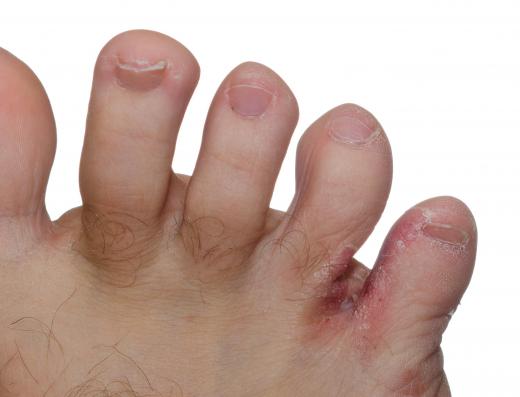 Ketoconazole cream is used by applying a small amount directly to the area affected by the infection, and rubbing it in thoroughly with the fingers. Depending on the strength of the cream and the prescribing doctor's instructions, it may be applied just once a day, but sometimes, two daily applications will be recommended. Often, the infection will start to clear up within a few days of use, but the cream should continue to be used even if the symptoms are apparently gone. Fungal infections are sometimes not completely treated when symptoms disappear, and in order to prevent a recurrent infection, the cream should be used for as long as recommended by a doctor, even in the absence of a noticeable infection.
For ketoconazole cream to work correctly, the affected area must be kept clean and dry. Areas stricken by athlete's foot may be difficult to keep completely clean, but wearing breathable cotton socks, and changing them often, can help. Applying talcum powder or an antifungal powder to the feet, socks, and shoes two times a day can also assist in keeping the area clean. Any powder used should be applied at least two hours after using the cream, however, so that the cream has sufficient time to absorb into the skin.
Like all medications, ketoconazole cream can cause side effects. This medication is generally well-tolerated by the individuals using it, but using the cream may sometimes cause effects on the skin such as itching, slight pain, or irritation. More rarely, serious side effects requiring a doctor's attention can occur with use of this cream, which may include developing acne, blistering or cracking on the skin and even swelling of the face.
AS FEATURED ON:
AS FEATURED ON:

By: roblan

Athlete's foot can be treated with ketoconazole cream.

By: agephotography

Antifungal creams such as ketoconazole are typically applied to the skin on the feet, hands or groin or to the nails to kill fungal growth.

By: Jasmin Merdan

An untreated scalp fungus may produce unsightly flakes.

By: Andreas Schindl

Foot fungus may be contracted through the use of public showers.