Ketoconazole is an antifungal medication available in the form of tablets as well as topical creams. This medication was released in the 1980s and is available by prescription in many regions of the world. There are some potentially serious risks associated with ketoconazole and doctors usually try other antifungal medications first before turning to this line of treatment.
The medication works by interfering with the cell wall of the fungus. It can slow or stop fungal growth in addition to actively killing off fungi, and is effective against a range of yeasts and fungi. Ketoconazole can be used in the treatment of ringworm, vaginal yeast infections, internal yeast infections, and a variety of other conditions caused by fungus. Because it is aggressive, it is popular for use in immunocompromised patients, who need fast-acting medications to treat infections before those infections cause complications.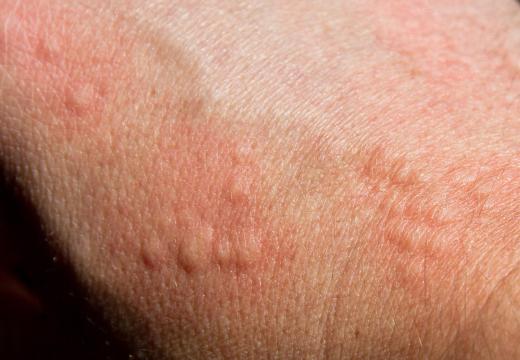 This medication is most effective in the presence of acid. Patients may be advised to take ketoconazole with orange juice or other acidic drinks, and it should not be taken at the same time as an antacid medication. It can also interact negatively with a number of other medications and it is important for patients to provide a complete list of all medications they are using, in case one or more is in conflict. This includes nutritional supplements and over-the-counter drugs, not just prescription medications.
Ketoconazole decreases levels of testosterone and glucocorticoids in the body. For this reason, it is sometimes used off-label in the treatment of conditions like prostate cancer and Cushing's disease. When a doctor recommends it for this use, the patient may also be offered other treatments to manage the condition. It can have a feminizing effect in male patients as a result of lowering testosterone levels, and this may be a concern in some cases.
Common side effects of this medication include depression and nausea. Patients can also develop skin reactions like hives and rashes, along with vomiting and diarrhea. Severe symptoms, including suicidal thoughts, should be reported to a doctor. It may be necessary to change the dose or switch to a different medication. This medication is also associated with liver damage and should not be used in people with a history of liver disease or with medications known to be harmful to the liver. Liver screening panels may be recommended for patients on this medication for extended periods to identify early signs of liver damage.
AS FEATURED ON:
AS FEATURED ON:

By: Jürgen Fälchle

Breaking out in hives can be a side effect of ketoconazole.

By: joshya

Ketoconazole is sometimes used in the treatment of conditions like Cushing's disease.

By: schankz

Ketoconazole can be used in the treatment of ringworm.

By: peterjunaidy

Ketoconazole is sometimes used off label to treat prostate cancer because it decreases levels of testosterone in the body.

By: Peter Atkins

Contracting an STD as a result of unsafe sexual practices may cause a woman to also develop a fungal vaginal infection.

By: pankajstock123

Side effects of ketoconazole may include liver damage.