What Is Mandibular Prognathism?
Mandibular prognathism is a condition in which the lower jaw protrudes ahead of the upper jaw. This results in an extended chin. Mandibular prognathism affects humans, but also occurs in certain dog breeds such as boxers and shih tzus. The disorder is also known as progenism.
The condition is named for the mandible, which is the medical term for the lower jaw, or jawbone. While the maxilla refers to the two-bone fusion that creates the upper jaw and secures the upper row of teeth, the mandible is one unit that keeps the lower teeth in place. Mandibular prognathism causes a misalignment of the teeth, a condition known as malocclusion. It also lends a certain disfigurement to the face. Mandibular prognathism usually happens when the condylar head, which is the part of the posterior projection of the mandible known as the condyloid process, grows excessively, with the maxilla unable to catch up.
Mandibular prognathism is classified as a genetic disorder. It is sometimes known as the Habsburg jaw, the Habsburg lip or the Austrian lip, after a famous family identified with the condition. The Habsburgs were an aristocratic royal house that ruled a large portion of the known world in the forms of the Holy Roman Empire, Austrian Empire and Spanish Empire for about six centuries. Family members were believed to have developed this deformity due to dynasty-sustaining intermarriage and inbreeding.
Historians point to Maximilian I as the first recorded Habsburg ruler to bear this disorder. A famous member of this family with mandibular prognathism is Charles I of Spain, otherwise known as Charles V of the Holy Roman Empire. The most severe recorded case of mandibular prognathism in the family's history, however, was of Charles II of Spain; his condition was so severe that he could barely chew his food.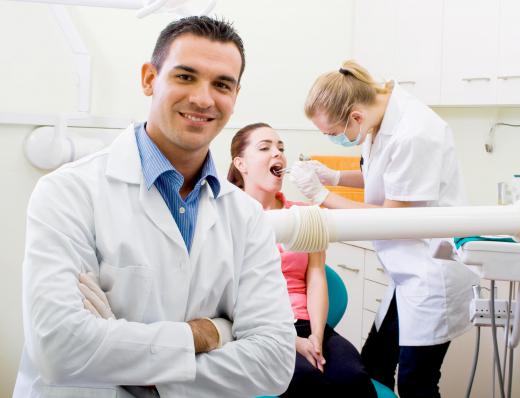 In such a dramatic case, a modern-day person would likely undergo surgery. Referred to as orthognatic surgery, or ramus osteotomy, which is named for the border of the bone that articulates with the condylar head, the procedure requires a dental surgeon to remove part of the mandible. This is meant to realign the jawbone, and items such as screws and plates may be introduced for enforcement of that purpose. Dental surgeons usually work with orthodontists who will recommend braces to align the teeth prior to the surgery. With the combination of braces and surgery, a perfectly aligned jaw and rows of teeth can be achieved.


By: Georgiy Pashin

Oral surgery might be required when the lower jaw juts out further than the upper jaw.

By: Valeriy Velikov

Dental surgeons and orthodontists may work together using a combination of braces and surgery to treat mandibular prognathism.

By: snapgalleria

Mandibular prognathism is a condition in which the lower jaw protrudes ahead of the upper jaw.

By: michaeljung

An orthodontist may recommend that a patient wear braces prior to undergoing surgery to treat mandibular prognathism.