Ochronosis may be often seen with the term alkaptonuria. The two words may be used together and are sometimes considered interchangeable, or the former is described as the predominant symptoms or manifestations of alkaptonuria. In alkaptonuria, a rare genetically inherited disorder, the body cannot process the amino acid tyrosine and this leads to a variety of symptoms that gradually worsen and cannot be cured. The symptoms are called ochronosis, but the symptoms may occur from other causes too. This simply means that the relationship between the two conditions is not exclusive.
As mentioned, ochronosis can result from tyrosine build up, but it may also occur when people can't break down phenylalanines. In rare instances, this group of symptoms may result from an exogenous or outside factor. Use of certain medications like hydroquinone has been shown to induce the condition, but this reaction is extremely rare.
The expression of ochronosis is usually associated with symptoms like darkening of certain parts of the cartilage, skin, and eyes. There may be dark blue pigment present in the eyes, between the pupil and outside corner. One obvious symptom might occur when urine turns blue in babies which will be visible in their diapers. The ears may have a blue coloration too, as can the nose.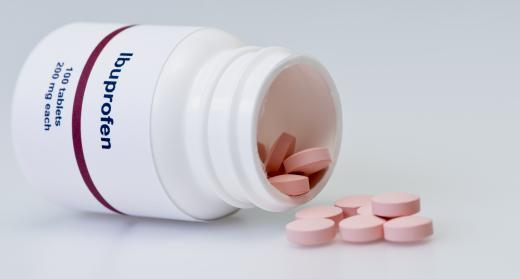 The blue color isn't uncomfortable. Of more concern is that cartilage tends to get thicker over time and this may lead to arthritic conditions and the eventual need of joint replacement. In some people heart valves can become affected too, requiring valve replacement, and/or people have painful problems with urinary tract.
Though life expectancy may not be altered for people with ochronosis, living can get progressively more uncomfortable as symptoms manifest and worsen. Unfortunately with conditions like alkaptonuria, there really isn't a treatment. It's possible that exogenous ochronosis could be helped by discontinuation of medication, and its presence on the skin is sometimes removable with laser treatment.
In the absence of cure for endogenous (from inside the body) types, there is certainly treatment. People who have ochronosis benefit from support from a doctor who can treat worsening arthritis and who may make sure that the heart and urinary tract are kept in good health and monitored so they stay that way. In early stages, people might not need much in the way of treatment except for the occasional dose of medications like ibuprofen to relieve minor joint pain. Vitamin C therapy may be useful too, and if the disease is caught early, many doctors advocate that people follow a low protein diet.
AS FEATURED ON:
AS FEATURED ON:

By: Bob Rannells

Ibuprofen may help relieve the pain associated with ochronosis.

By: Sherry Yates

Ibuprofen may help relieve the pain associated with ochronosis.

By: Ilike

Blue urine in a baby's diaper may be a sign of ochronosis.