What is Oncology Massage?
Oncology massage is a special type of massage developed specifically for cancer patients. Cancer patients have certain unique health needs which must be addressed in massage sessions to ensure that the massage is productive and not harmful to the patient. Several massage schools offer training in oncology massage to massage therapists and medical professionals, and many hospitals which offer cancer treatment also provide oncology massage as a service to patients who request it.
The primary concern with massaging cancer patients is that a poorly performed massage could actually hurt the patient. Cancer patients are at risk for lymphedema, a condition caused by a buildup of fluid in the limbs, and a massage could also potentially break up cancerous tumors and cause them to spread in the body, making the cancer worse. Some cancer patients also experience increased sensitivity and very fragile skin, so massage can potentially be painful. These issues caused many doctors to recommend that cancer patients abstain from massage historically, despite the health benefits of massage.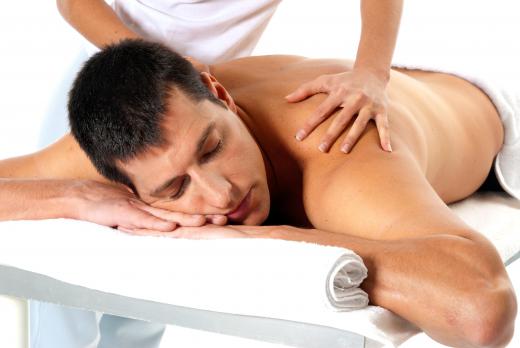 In response to a desire to provide massage for cancer patients, massage therapists and medical professionals worked together to create oncology massage. Oncology massage provides beneficial touch to cancer patients without making their conditions worse. The focus of oncology massage is generally on creating a gentle, nurturing environment for the patient, allowing the patient to relax.
Cancer patients often experience feelings of isolation which can be alleviated through touch. They are also under high amounts of stress and strain, and massage can help ease stress. Reductions in stress levels have been shown to be beneficial to the immune system, so a properly performed oncology massage can actually be extremely beneficial for a patient, strengthening his or her body for the fight against the cancer.
In a typical oncology massage, the patient may be nude or clothed, depending on personal comfort. He or she is helped onto a warmed and padded massage table, and covered in sheets and blankets to keep the body warm and comfortable during the massage. As the massage therapist works, he or she exposes just the part of the body being worked on, and very gentle touch is used. Smooth, flowing strokes and gentle circular motions are used, with the level of touch being extremely light. At any signs of discomfort, the pressure is decreased, or the massage therapist may move to another section of the body.
Hypoallergenic cream or oil is used as a lubricant during oncology massage to reduce friction on the skin, making the patient more comfortable. Special care is taken around surgical sites, ports, intravenous lines, and so forth during an oncology massage. Typically, these areas are avoided altogether until healing has started.
As with any type of massage therapy, it is a good idea to talk to a doctor before making an appointment for oncology massage. Some oncologists work directly with massage therapists or health professionals who offer oncology massage, so they may have a recommendation, and others may want to talk to a massage therapist or oncology nurse about the patient's specific case before approving oncology massage.
AS FEATURED ON:
AS FEATURED ON:

By: dgmata

Massage therapy is often used to promote relaxation and healing.

By: endostock

Oncology massages have been developed specifically for cancer patients.

By: Micky75

Oncology massage, when performed incorrectly, can actually help the cancer spread.

By: Tandem

Some oncologists may work directly with a message therapist to provide massages for their patients.

By: Photographee.eu

Patients should consult with their doctors prior to undergoing any massage therapy.