Polysorbate 80, also known as polyoxyethylene sorbitan monooleate or Tween™ 80, is an amber-colored, viscous liquid with a slightly bitter taste. It is used primarily as an emulsifier in food products, cosmetics, vitamins, medicines, and vaccines. The product is a derivative of natural sorbitol and oleic acid, and is manufactured worldwide. It is generally considered to be a "green" compound, and there are few risks associated with ingesting it or using it topically in small amounts. There is some controversy when it comes to larger quantities used medicinally, however, and adverse reactions have been documented when the compound in injected intravenously.
Basic Characteristics
Manufacturers create the compound by combining sorbitol and oleic acid, which is derived from certain leafy plants. Together these ingredients act as a strong emulsifier, which means that they help liquids of different densities bind together and resist separation. They also have strong anti-foaming characteristics, which means that they can keep different chemicals and ingredients from bubbling up when mixed.
This compound is also used as a solubilizer, meaning that it aids in dissolving ingredients that would not otherwise dissolve or that would not fully dissolve on their own, and is a surfectant as well — a substance that reduces the surface tension of a liquid, resulting in an easier, smoother spread. These characteristics make it a popular choice for a range of different prepared foods and cosmetics, as well as certain medications.
Occurrence in Foods
One of the most common uses for Polysorbate 80 is as a stabilizer in ice cream and other frozen desserts. Not only will it help the foods stay frozen, it will also help prevent them from completely disintegrating during the melting process. As things warm up, their natural tendency is to separate, which in the case of ice cream could result in pools of cream, water, and gelatinous flavoring or coloring additives. The compound helps make sure that everything melts together and remains cohesive.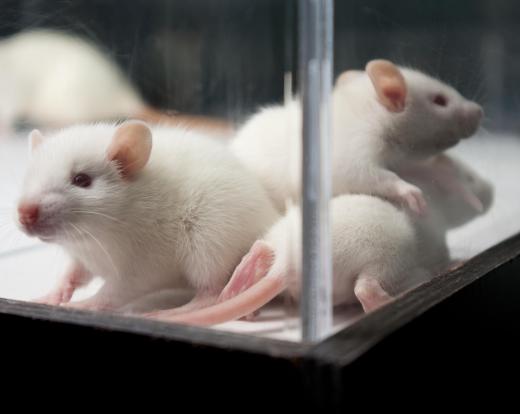 It is also used as an emulsifier and surfactant in products such as vegetable shortening, condiments like ketchup and mustard, and chewing gums. Many "diet" or specially-marked low-calorie foods also make use of the compound to prevent separations and thinner consistencies that are more likely when fats and sugars are removed. It's commonly used to reduce foam in yeasted foods and beverages, and may occur in some cottage cheeses for a similar purpose. Many whipped dessert toppings, some creamy salad dressings, and a number of gelatin products contain it, too.
Cosmetic Uses
Liquid soaps, detergents, and bath gels often make use of it because of how well it helps different ingredients dissolve and staydissolved. It can promote a uniform consistency by allowing different ingredients to blend more completely with each other. Some mouthwashes contain it for these reasons, too. A number of liquid makeup products, particularly foundations and lotions, include it, too. In these cases the goal is usually creamy smooth application rather than dissolvability, though much of this depends on the particular ingredients being used.
In some places the compound can also be purchased more or less in isolation, usually as a hair and scalp treatment. This was particularly popular in the early 1980s, when manufacturers advertised Polysorbate 80 as a revolutionary new cure for baldness. Despite being initially well received in the marketplace, a court ruling prevented manufacturers from making anti-baldness claims in 1986 after a lengthy hearing involving manufacturers, the United States Food and Drug Administration (FDA), the Federal Trade Commission (FTC), and the US Postal Service. Many people continue to claim that it can reverse hair loss, but it can no longer be sold in most places with those claims.
Medicinal and Industrial Applications
Pharmaceutical manufacturers add it to a number of different medications, often to improve the consistency of gelatin capsules, improve the shelf-life of vitamins, or maintain the viscous consistency of different oral suspensions. It can also be used in a number of vaccines, usually as a way of protecting their potency and stability. In industry it is commonly used as a wetting agent in the cleaning and preparation of some foods, such as poultry, and it can also be used in products not intended for consumption such as herbicides.
Risks and Controversy
There has been some controversy over the potential health risks of Polysorbate 80. The primary concern involves injection of the chemical into the body, and a study in 1993 showed that its injection into baby female rats resulted in malformed reproductive organs. Years later, reports of this study caused many to question if this compound was safe when it was widely used in flu vaccines for the H1N1 virus.
The chemical has also been linked to anaphylactic shock, though not conclusively. There is also a risk of allergic reaction. No studies where it was administered orally have found any health risk, however, and no risks have been found in studies using human subjects.
AS FEATURED ON:
AS FEATURED ON:

By: vlorzor

Chewing gum may contain polysorbate 80.

By: mangostock

Polysorbate is used in some vaccines.

By: Paulista

Polysorbate 80 is sometimes used to improve the consistency of gel capsules.

By: lculig

A 1993 study showed that a Polysorbate 80 injection into baby female rats resulted in malformed reproductive organs.

By: Karramba Production

Many bath gels contain polysorbate 80.