What is Portion Distortion?
The National Heart, Lung and Blood Institute (NHLBI) defines a portion as "the amount of food that you choose to eat for a meal or snack." Portion distortion is a term used to refer to situations where people tend to regard excessive portions as normal amounts. These situations are believed to contribute to unhealthy eating habits that may lead to obesity.
Health professionals, such as those at the NHLBI, believe portion distortion results, in large part, from the influence of restaurant dining. Many people are value seekers and most businesses are profit seekers. When these two goals meet in a food service setting, the result is customers looking for bargains and restaurants offering excessive portions to make people believe they are getting those bargains.
The Check Your Health organization notes that in 1955 a McDonald's soda was 7 fluid ounces (207 ml). By 2002, McDonald's was serving sodas as large as 42 fluid ounces (1.25 l). The organization further noted that in many instances, food served in commercial settings is more than three times larger than the portions recommended by the United States Drug Administration (USDA).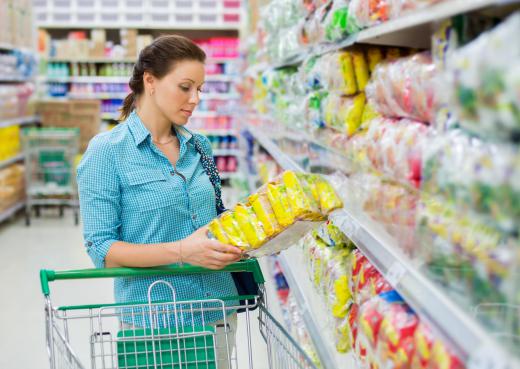 The problem, according the NHLBI, is that this behavior often leads people to develop habits of serving and consuming excessive portions at home. Food suppliers in grocery stores are also following the trend of overfeeding people. As a result, foods that are already portioned tend to be much larger than they once were, exposing people to more instances of harmful portion distortion.
These habits are harmful because they commonly lead to overeating. For example, if a person normally eats two hot dogs, she is likely to still eat two hot dogs if the supplier increases their size and labels them "jumbo." This problem is commonly found with pre-portioned items that are marked "individual."
Some items marketed as individual portions actually contain enough food for more than one person. However, most people do not take the time to review the nutritional label for the number of servings. Many people finish all the contents of an individual sized package even when it displays a label with advertisements such as "now with 25% more."
The adverse effects of portion distortion are increased health problems and climbing obesity. Heart disease, diabetes, and arthritis are some examples of health conditions believed to be associated with unhealthy eating. Furthermore, the obesity connected with portion distortion is not only affecting adults, but it is also jeopardizing the health of an increasing number of children.
AS FEATURED ON:
AS FEATURED ON:

By: Kenishirotie

Portion distortion occurs when people consider large amounts of food normal, as opposed to the small, hand-sized portions they should be eating.

By: Art Allianz

Consumers can help avoid portion distortion by checking nutrition labels for recommended serving sizes.

By: olly

One adverse effect of portion distortion is obesity.

By: Deyan Georgiev

Products like soda are being sold in increasingly larger package sizes.

By: Kokhanchikov

Over the years, obesity has become a serious public health problem in the United States and elsewhere.