What is Positive Pressure Ventilation?
Positive pressure ventilation (PPV) is a form of artificial respiration in which a mechanical ventilator is used to force air into a non-breathing patient. Unlike negative-pressure ventilation, in which the body is encased in an iron lung that forces the chest to expand and suck in air, PPV forces air directly into the lungs. This is accomplished by attaching an artificial endotracheal or tracheostomy airway tube to the patient. The most common types of PPV machines are volume-cycled ventilators, pressure-cycled ventilators, flow-cycled ventilators, and time-cycled ventilators.
Volume-cycled positive pressure ventilation is used on patients with acute respiratory distress syndrome (ARDS) or bronchospasm. A certain preset volume of airflow is pumped into the lungs, after which passive exhalation is allowed. It is most commonly applied in critical situations where the patient requires a pre-calculated amount of air, and is one of the most commonly used forms of this treatment.
Pressure-cycled PVP provides oxygen during inhalation until a certain preset pressure level is achieved, after which passive exhalation is allowed. Generally less powerful than the volume-cycled type, pressure-cycled positive pressure ventilation is more commonly used as a short-term solution to provide a pressure-assisted breath. It's also sometimes utilized for critical situations, but this is rare. More often it's applied in healthcare facilities and mobile intensive care units.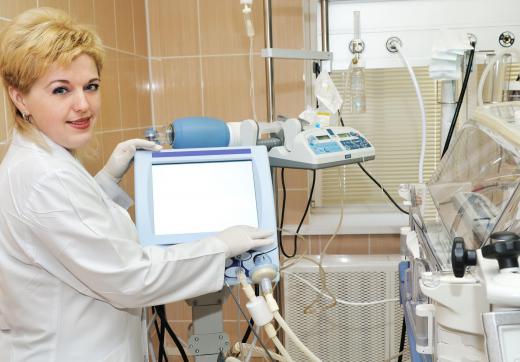 Flow-cycled positive pressure ventilation provides an increasing supply of oxygen. At least, it is until resistance is reduced enough to allow a preset flow rate. When this has been achieved, the rate of oxygen is gradually dropped until it coincides exactly with the desired flow rate.
Time-cycled positive pressure ventilation relies on a timer to deliver artificial respiration until a preset time has been reached. Afterward, the patient is allowed to passively exhale. The amount of time is based on the required volume. If the current oxygen flow rate is higher than desired, then less time must be used. If, however, the flow rate is being impeded, the time must be extended until the correct volume is delivered to the patient's lungs.
All methods of this treatment rely on a self-inflating bag and face mask attached to a tube that is either inserted into the patient's mouth — endotracheal — or through a hole in his or her neck — tracheostomy — to deliver oxygen. Unlike negative-pressure ventilation, positive-pressure ventilation is much less invasive and, therefore, the more preferred solution. It has become an integral tool in the treatment of respiratory failure since the 1990s.
AS FEATURED ON:
AS FEATURED ON:

By: Chrispo

An endotracheal tube is often used in positive pressure ventilation.

By: Kadmy

Positive pressure ventilation uses a machanical ventilator to force air into a non-breathing patient.

By: JASON WINTER

The iron lung, which uses negative pressure ventilation, was one of the first artificial respiration devices.

By: sudok1

Positive pressure ventilation is commonly used during heart procedures and other major surgeries.

By: uwimages

Manual ventilation bags work on the principle of positive pressure ventilation.