What is Progesterone Cream?
Progesterone cream is usually an over the counter (OTC) substance that contains progesterone synthesized from certain plants and said to be near identical to the hormone as produced in the body. For women, progesterone plays an important role. It can help regulate menstrual cycles, it may be used in oral prescription form for women with polycystic ovarian disease, and it is produced in large amounts when women are pregnant in order to sustain the growing infant.
What can be said of progesterone when produced by the body may not be equal in progesterone cream. One of the biggest advocates of use of these creams was Dr. John Lee, who supported its use, and not the substitute wild yam cream, in order to balance menstrual cycles and to aid women during premenopause and during and after menopause. Dr. Lee, who died in 2003, never produced his own progesterone cream, though his family now produces one based on his formula. However his books, Hormone Balance Made Simple and What Your Doctor May Not Tell You about Menopause remain very popular and touch heavily on progesterone cream use.
Most progesterone creams are over the counter drugs and available on Internet sites and at some natural foods stores. Usually if women want a prescription substitute they take oral progesterone instead. This was argued as less effective by Dr. Lee because the liver quickly metabolizes it and requires a much higher dosage. The cream, which is absorbed into the skin, can be used in lower doses, according to advocates of its use.
However, warnings do exist about progesterone cream. First off, it's difficult to tell strength of progesterone used and how much the body will use it. Some women can end up with overly high levels of progesterone in their body when they use certain creams. Also, one claim about progesterone cream is that it prevents miscarriage. This has never been fully proven and there are many miscarriages that are not caused by lack of progesterone; a fetus that is not viable due to significant gene or chromosomal defects often results in miscarriage.
Progesterone cream is commonly used as a means of dealing with some of the unpleasant symptoms of low progesterone amounts after menopause. There are claims that it helps with hot flashes, reduces osteoporosis, and may eliminate vaginal dryness. It may also be used to treat irregular periods or significant PMS, and as mentioned some women may use as a miscarriage preventative. Most claims regarding these creams have not been proven, and most evidence regarding efficacy is anecdotal. There is also some worry that supplementation with the cream might expose women to higher cancer risk, but this needs further study.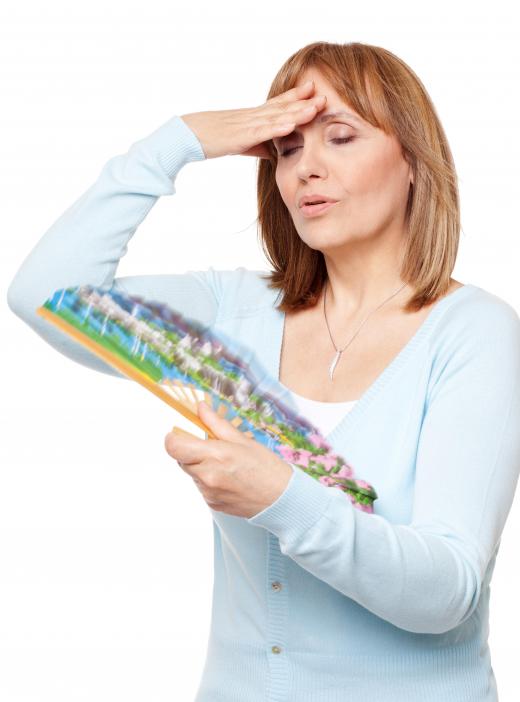 There are doctors who support Dr. Lee's studies and those who strongly oppose them. It may be a good idea to speak with a gynecologist or endocrinologist before starting use of one of these creams. Women who do use a cream even in OTC forms should probably occasionally have progesterone levels evaluated to make sure theirs are not too high.
AS FEATURED ON:
AS FEATURED ON:

By: Africa Studio

Many progesterone creams can be obtained over the counter.

By: dalaprod

Women should talk with a gynecologist before using a progesterone cream.

By: lukasmajercik

Progesterone cream may help ease symptoms associated with PMS and treat irregular periods.

By: Ana Blazic Pavlovic

Progesterone cream may alleviate hot flashes during menopause.