What is School First Aid?
School first aid refers to the type of medical attention that is given to students attending any type of educational facility. Ranging from elementary school to university, schools must be adequately equipped to handle any medical emergencies that may arise. While school first aid will vary according to country, this type of first aid is always present within a learning environment.
In most parts of the world, a school is considered a workplace. Since almost all workplaces must have some trained medical staff on hand, schools are no exception. More often than not, school first aid workers have had technical medical training that involves learning cardiopulmonary resuscitation, the administering of prescription medications, and tending to common cold and flu viruses.
Schools must employ a certain number of trained medical staff members in accordance with local laws. While each school may have a different number of staff members, medical staff must be present at all times while school is in session. Boarding school medical staff members often live and work on campus, since students are on campus throughout an entire semester.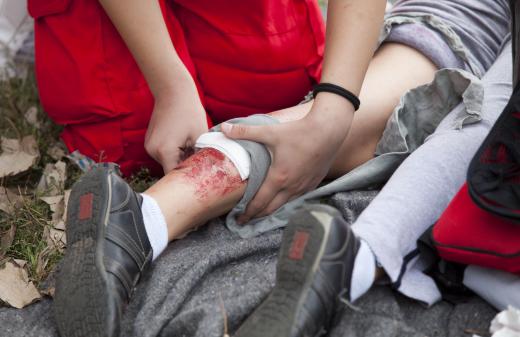 Students in need of medical attention should be able to rely upon the knowledge and expertise of school first aid staff. Illnesses that affect certain students should be brought to the attention of medical staff at the beginning of each semester. Frequently, medical staff members are also asked to accompany students on field trips in order to ensure medical safety.
All schools must have enough medical equipment to service students. Medical equipment of this nature can include a basic first aid kit, medical beds, diabetic equipment, and heart monitoring devices in addition to other important items. All rules and regulations concerning school first aid are left up to different staff members to decide.
A governing body, a school's board of directors, and sometimes teachers are all part of the school medical process. These involved parties decide upon the number of medical staff that a school needs, the type of equipment that should be kept on hand, and which skills medical staff members need to possess.
While some school first aid staff members may be trained nurses, this is not always the case. It is not uncommon for school medical staff to only have basic first aid training, though many schools also employ a full-time or part-time head nurse. Details surrounding first aid programs within schools will greatly vary from country to country, though almost all of these details can be found out by contacting your local school board.
AS FEATURED ON:
AS FEATURED ON:

By: brozova

All schools typically have first aid kits on hand for emergencies.

By: wellphoto

First aid might include stopping a patient from bleeding or immobilizing a limb.