What Is Strategic Healthcare Planning?
Strategic healthcare planning is an organized approach to the delivery of services to healthcare consumers. This includes participants in insurance programs, members of managed care organizations, and patients at specific facilities as well as users of particular government programs. The process helps organizations outline their purpose and goals so they can be accountable when it comes to increasing the quality and efficiency of services. Consultants are available to assist organizations if they have trouble with strategic healthcare planning or want input from experienced professionals.
This can be a process with several stages. One involves defining the demographic served by the organization and identifying underserved areas that might provide room for expansion. Strategic healthcare planning also requires looking at the purpose of the organization, which can help organizations determine their long-term goals. A government agency that provides mental health services, for example, might have a goal of providing intervention and treatment as early as possible, and keeping members of the mentally ill community within reach of services.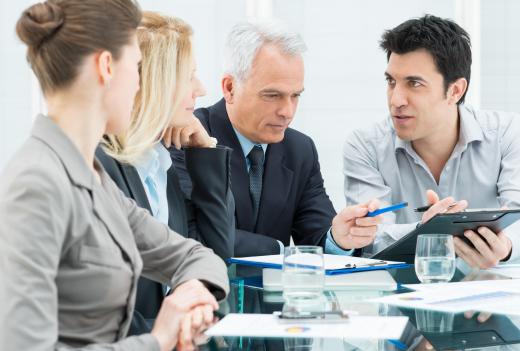 A mission statement may be developed as part of strategic healthcare planning to articulate the goals of the organization and clearly identify the population it serves. Plans may be made with specific points and directives to help officials remain accountable. These could include expanding services and reach within a set period of time, for example. Setting clear, measurable goals can make it easier to see if an organization is meeting them, and can help staff members identify areas where there is room for improvement.
Improving the quality of services is one concern with strategic health care planning. Efficiency is often an issue as well. Organizations want to keep costs under control both to increase profits, and provide more funds for improving patient care. Hospitals that improve efficiency, for example, might be able to buy new medical imaging equipment they can use to expand the services they offer, improve diagnostics, and attract patients who request specific types of procedures and imaging studies. This can improve profits in the long term while also benefiting the facility's quality of care.
At government agencies and publicly traded companies, strategic healthcare planning may be a matter of public record. This provides information to shareholders and members of the general public about an organization's goals and how well it is meeting them. Information about organizational progress can help people make important decisions, like how to vote on a proposed tax levy for a public hospital. If the facility is staying on target with its mission and goals and funding would help it expand services, this might be a compelling argument to vote yes.
AS FEATURED ON:
AS FEATURED ON:

By: Rido

Consultants help organizations with their strategic healthcare planning.